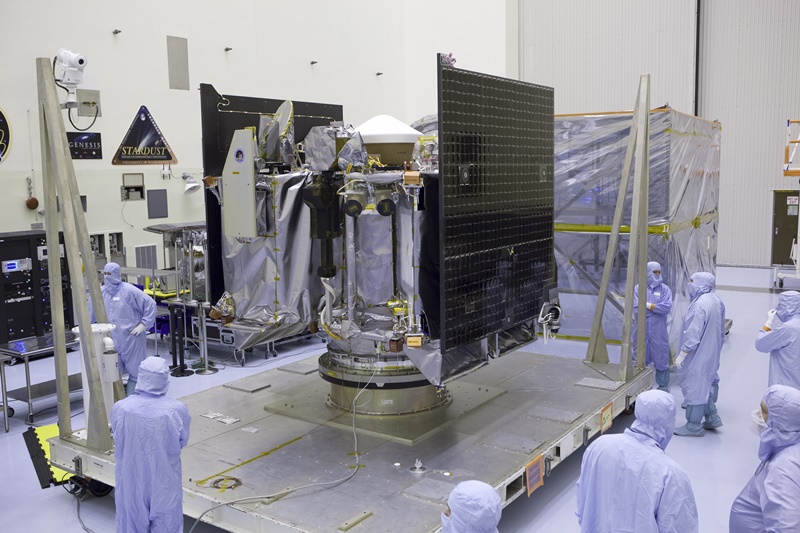 US: To investigate an asteroid in unprecedented detail, the US space agency, NASA, is set to launch a space mission on September 8 from Cape Canaveral in Florida. The mission will feature a variety of photonics-based equipment which will be kitted out in the "OSIRIS-REx" mission (short for Origins, Spectral Interpretation, Resource Identification, Security-Regolith Explorer).
The mission will feature a LiDAR altimeter, visible-IR spectrometers and a trio of cameras. The aim of this mission is to generate new insights into planet formation and the origin of life on Earth. Arizona scientists are heavily involved in the mission, with Dante Lauretta from the University of Arizona in Tucson heading things up as principal investigator.
"The launch of OSIRIS-REx is the beginning a seven-year journey to return pristine samples from asteroid Bennu," said Lauretta. "The team has built an amazing spacecraft, and we are well-equipped to investigate Bennu and return with our scientific treasure."
Assuming a successful launch, the mission is scheduled to begin its final approach to asteroid "Bennu" in August 2018. After a year-long survey from orbit using the optical equipment, it will then briefly come into contact with the asteroid to retrieve a sample that will be brought back to Earth for more detailed analysis.
"The sampling arm will make contact with the surface of Bennu for about five seconds, during which it will release a burst of nitrogen gas," says NASA. "The procedure will cause rocks and surface soil to be stirred up and captured in the sampler head."
The spacecraft has enough nitrogen to allow three sampling attempts, to collect between 60 and 2000 grams from Bennu. Departure from the asteroid belt is then scheduled for March 2021, with touch-down back on Earth expected in September 2023.
Among the five on-board scientific instruments is a camera suite built by team at the University of Arizona. It features three different cameras: the "MapCam" to generate a four-color map of the asteroid surface; the "PolyCam" 8-inch telescope to image Bennu from 2 million kilometers and generate high-resolution images; and the "SamCam" for rapid imaging and checking the sample collector used to grab a chunk of the surface.