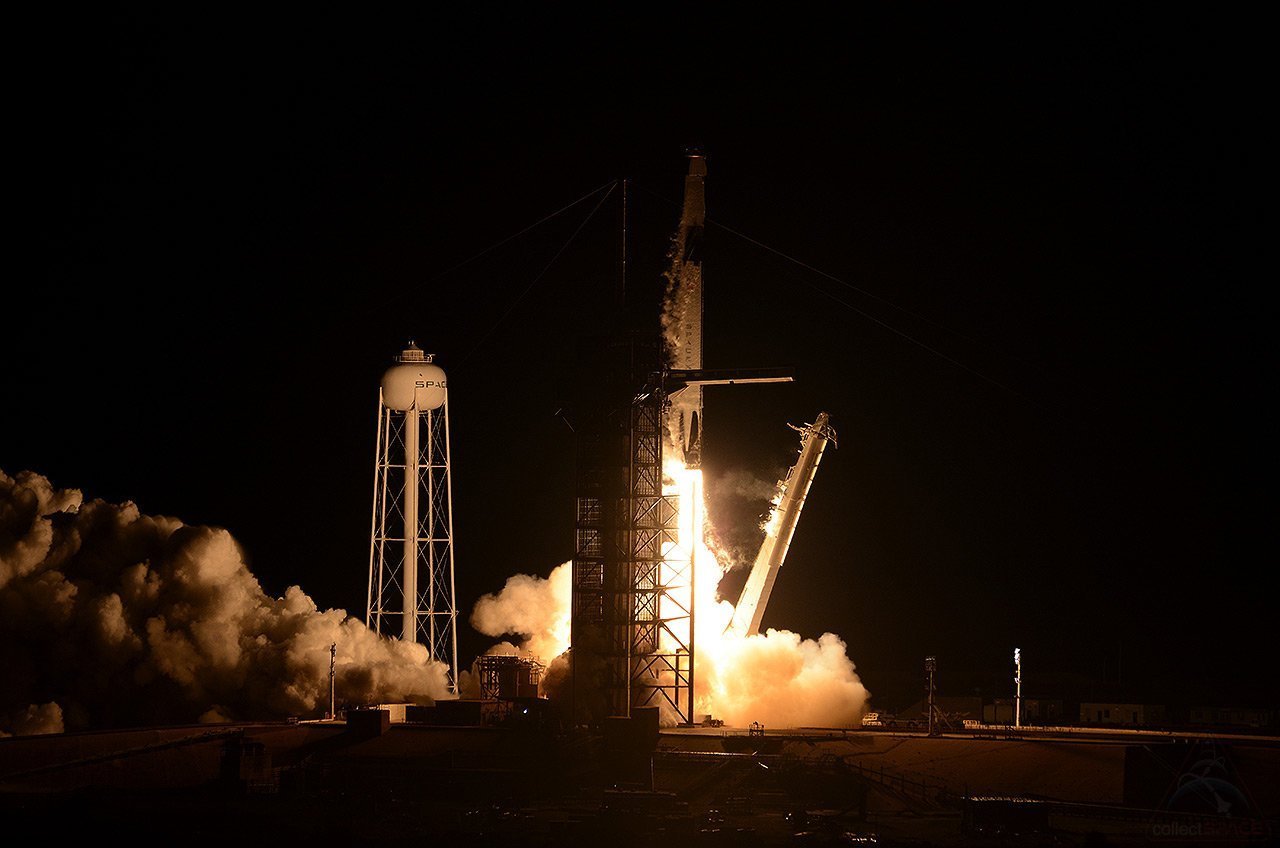 USA: For the first time in history, a commercially built and operated American crew spacecraft and rocket, which launched from American soil, is on its way to the International Space Station. The SpaceX Crew Dragon spacecraft lifted off at 2:49 a.m. EST Saturday on the company's Falcon 9 rocket from Launch Complex 39A at NASA's Kennedy Space Center in Florida.
"Today's successful launch marks a new chapter in American excellence, getting us closer to once again flying American astronauts on American rockets from American soil," said NASA Administrator Jim Bridenstine. "I proudly congratulate the SpaceX and NASA teams for this major milestone in our nation's space history. This first launch of a space system designed for humans, and built and operated by a commercial company through a public-private partnership, is a revolutionary step on our path to get humans to the Moon, Mars and beyond."
Known as Demo-1, SpaceX's inaugural flight with NASA's Commercial Crew Program is an important uncrewed mission designed to test the end-to-end capabilities of the new system. It brings the nation one step closer to the return of human launches to the space station from the United States for the first time since 2011 – the last space shuttle mission. Teams still have work to do after this flight to prepare the spacecraft to fly astronauts. The best way to advance the system design was to fly this spacecraft and uncover any other areas or integrated flight changes that might be required.
The program demonstrates NASA's commitment to investing in commercial companies through public-private partnerships and builds on the success of American companies, including SpaceX, already delivering cargo to the space station. Demo-1 is a critical step for NASA and SpaceX to demonstrate the ability to safely fly missions with NASA astronauts to the orbital laboratory.
"First a note of appreciation to the SpaceX team. It has been 17 years to get to this point, 2002 to now, and an incredible amount of hard work and sacrifice from a lot of people that got us to this point…I'd also like to express great appreciation for NASA," said Elon Musk, CEO and lead designer at SpaceX. "SpaceX would not be here without NASA, without the incredible work that was done before SpaceX even started and without the support after SpaceX did start."
The SpaceX Crew Dragon spacecraft is on its way to the space station for a 6:05 a.m. Sunday, March 3 docking to the low-Earth orbit destination. Live coverage of the rendezvous and docking will air on NASA Television and the agency's website beginning at 3:30 a.m. Coverage will resume at 8:30 a.m. with the hatch opening, followed at 10:45 a.m. with a crew welcoming ceremony.
Teams in the space station mission center at Johnson will monitor station crew members' opening of the spacecraft hatch, entering Crew Dragon and unpacking the capsule.
Mission Objectives
All the launch pad and vehicle hardware, and the launch day operations, were conducted in preparation for the next flight with crew aboard, including the control teams and ground crews. The mission and testing continues once the Falcon 9 lifts off the pad.
During the spacecraft's approach, in-orbit demonstrations will include rendezvous activities from a distance of up to 2.5 miles (4 kilometers), known as far field, and activities within one mile (1.6 kilometers), known as near field. As the spacecraft approaches the space station, it will demonstrate its automated control and maneuvering capabilities by reversing course and backing away from the station before the final docking sequence.
For Demo-1, Crew Dragon is carrying more than 400 pounds of crew supplies and equipment to the space station and will return some critical research samples to Earth. A lifelike test device named Ripley also will travel on the Crew Dragon, outfitted with sensors to provide data on potential effects on humans traveling in Crew Dragon.
For operational missions, Crew Dragon will be able to launch as many as four crew members and carry more than 220 pounds of cargo, enabling the expansion of the crew members, increasing the time dedicated to research in the unique microgravity environment, and returning more science back to Earth.
NASA and SpaceX will use data from Demo-1, along with planned upgrades and additional qualification testing, to further prepare for Demo-2, the crewed flight test that will carry NASA astronauts Bob Behnken and Doug Hurley to the International Space Station. NASA will validate the performance of SpaceX's systems before putting crew on board for the Demo-2 flight, currently targeted for July.
NASA's Commercial Crew Program is working with Boeing and SpaceX to design, build, test and operate safe, reliable and cost-effective human transportation systems to low-Earth orbit. Both companies are focused on test missions, including abort system demonstrations and crew flight tests, ahead of regularly flying crew missions to the space station. Both companies' crewed flights will be the first times in history NASA has sent astronauts to space on systems owned, built, tested and operated by private companies.