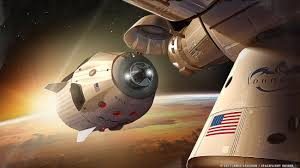 US: The planned launch date for the first test flight of SpaceX's Crew Dragon spacecraft has been announced. A new name for the company's "Big Falcon Rocket" has also been released.
NASA's Commercial Crew Program (CCP) has had the first planned flight slip repeatedly. However, the wait might be coming to an end with an official date finally posted—Jan. 7, 2019. Demo Flight 1 will be SpaceX's uncrewed test flight, one that could help demonstrate the viability of its entry in the CCP.
The demo is planned to help certify the Falcon 9 rocket and Crew Dragon to support its first two astronauts—a flight currently expected in June of 2019 with NASA astronauts Doug Hurley and Bob Behnken.
The agency posted the following on their Commercial Crew Program blog regarding the mission"To meet NASA's requirements, the commercial providers must demonstrate that their systems are ready to begin regular flights to the space station. Two of those demonstrations are uncrewed flight tests, known as Orbital Flight Test for Boeing, and Demo-1 for SpaceX. After the uncrewed flight tests, both companies will carry out spacecraft abort tests to demonstrate their crew escape capability during an actual on-pad, or ascent emergency. The final test flights for each company will be crew flight tests to the space station prior to being certified by NASA for crew rotation missions."
Through this mission, Space X is also seeing the further possibility of sending people to Mars.