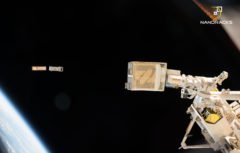 US: NanoRacks successfully completed the 15th CubeSat Deployment mission from the Company's commercially developed platform on the International Space Station. Having released five CubeSats into low-Earth orbit, this mission marks NanoRacks' 190th CubeSat released from the Space Station, and the 228th small satellite deployed by NanoRacks overall.
The CubeSats deployed were launched to the Space Station on the 16th contracted resupply mission for SpaceX from the Kennedy Space Center in December 2018.
NanoRacks offered an affordable launch opportunity, payload manifesting, full safety reviews with NASA, and managed on-orbit operations in order to provide an end-to-end solution that met all customer needs.
UNITE and TechEdSat-8 were both selected for flight by NASA's CubeSat Launch Initiative (CSLI) and were the two satellites launched for the Educational Launch of Nanosatellites-21 (ELaNa-21) mission complement, sponsored by the NASA Launch Services Program (LSP).
The CubeSat Assessment and Test (CAT-1, CAT-2) investigations are being led by the Johns Hopkins University Applied Physics Laboratory and use two commercial off-the-shelf spacecraft to support a government furnished equipment communications experiment.
And lastly, the Delphini-1 CubeSat comes from Aarhus University in Denmark, the University's first-ever satellite. This proof of concept mission was created under a team effort of the University's Departments of Physics and Astronomy, Engineering, and Geoscience.
"Once again we are demonstrating the diverse CubeSat market that exists today," said External Payloads Manager, Henry Martin. "NanoRacks satellite deployment platforms enable affordable opportunities for everyone from high school, to the university level, to the professional researchers at the Applied Physics Laboratory. The International Space Station is the perfect testbed for those that are new to space and to those that have a long history in orbit, and having such frequent access and opportunity continues to open the door to a growing space marketplace."