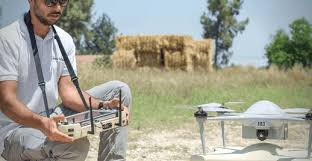 Israel: Mobilicom Ltd., a global mission-critical-communications solution provider, will present its full SkyHopper product suite, including the communication data links (SkyHopper PRO and SkyHopper ONE), the Integrated Video Processing solution (SkyHopper PRO V), the Viewers (SkyHopper VU) and Controller (SkyHopper ControlAIR) at the Commercial UAV Show in London.
Mobilicom's SkyHopper family of solutions have been implemented into commercial drones and robotics with several large companies as well as having secured significant contracts with commercial and government bodies. On October 2018, Mobilicom announced that world-leading aerospace pioneer Airbus has integrated Mobilicom's SkyHopper PRO solution into its Innovation drone platform.
SkyHopper by Mobilicom offers commercial and industrial drone and robotics manufacturers and service providers a holistic solution in an effort to streamline their development processes. With field-proven, cutting-edge technology, SkyHopper offers end-to-end hardware, software, support and integration services, and enables drone manufacturers to focus on their core business and enjoy peace of mind when it comes to the integration of their drones.
SkyHopper's Director of Sales, Mr. Rony Klein will also be giving a talk at the Commercial UAV show conference, under the title of: "Beyond Virtual Line of Sight (BVLOS) – Is your platform ready?".
Mobilicom's CEO, Oren Elkayam stated, "We are excited to present the entire SkyHopper Solution at the London Commercial UAV Show. Recently completing its first year of activity, the SkyHopper entity has evolved from concept to business success, and was already implemented by 50 drone manufacturers in 14 different countries and we are looking forward to showcase our innovations in London."