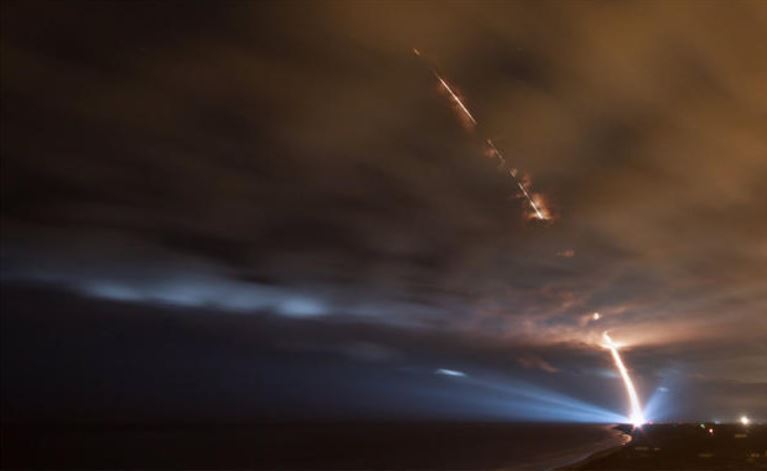 US: An Orbital ATK Minotaur 4 rocket lights up the overnight sky on Saturday as its carrier blasts off a small tracking satellite for the U.S. Air Force into orbit to keep tabs on critical high-altitude military and civilian satellites.
Made up of five solid-fuel stages, including three salvaged from decommissioned Peacekeeper missiles, the eight-story-tall Minotaur 4 roared to life with a burst of fiery exhaust at 2:04 a.m. EDT (GMT-4), briefly turning night into day as it leaped away from pad 46 at Cape Canaveral Air Force Station.
The first three Peacekeeper stages fired in succession over the next three-and-a-half minutes, putting on a spectacular show as they propelled the rocket out of the lower atmosphere to an altitude of about 120 miles some 328 miles east of the launch site.
After a 10-minute coast, the fourth stage ignited for a one-minute burn, putting the vehicle in a predicted 249-by-372 mile orbit tilted 24.5 degrees to the equator. The rocket's fifth stage fired 10 minutes later to circularize the orbit at 372 miles and to eliminate the tilt, putting the spacecraft on a trajectory directly above the equator.
Twenty-eight minutes after launch, the $49 million ORS-5 satellite, also known as "SensorSat," was released to fly on its own.
Orbital ATK has launched Minotaur rockets in various configurations from California, Alaska and Virginia, but Saturday's flight was the first from Cape Canaveral where the state of Florida makes pad 46 available on a commercial basis for relatively small rockets.
The ORS-5/SensorSat satellite, built by the Massachusetts Institute of Technology's Lincoln Laboratory, is equipped with a single instrument, a telescope designed to monitor satellites in geosynchronous orbit 22,300 miles above the equator. The satellite measures just three feet long by about 1.5 feet wide.