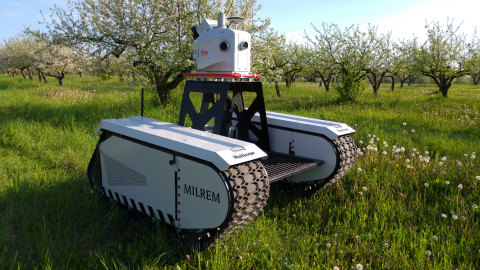 US: Milrem and Leica Geosystems have launched the first unmanned ground vehicle (UGV), Pegasus:Multiscope for off-road use and to discover the possibilities of using it in applications of surveying, security, and monitoring.
The companies gave a demo of the UGC at the HxGN LIVE on June 13th. Pegasus:Multiscope is ideal for industries that can gain from automating processes to eliminate physical risk, such as surveying challenging terrain for civil engineering infrastructure projects, agriculture, or in hazardous areas such as near nuclear power stations or areas of intense conflict.
The UGV's low ground pressure allows it to traverse any type of terrain, including mud, sand or snow. But when combined with the Pegasus:Two's multiple sensor options, the applications become unlimited. For automated border patrols, Pegasus:Multiscope can follow a pre-programmed route and detect disturbances. Using the cameras calibrated to the 3D point cloud from the Pegasus:Two, change detection with Leica MapFactory for AutoCAD can be seen within 2 to 3 cm.
For civil engineering use, the UGV is able to more easily and cost effectively traverse potentially dangerous or difficult areas, such as unstable riverbanks when surveying for dam construction. Ground level autonomous monitoring of large-scale farming offers the potential of real-time essential data for improved productivity. The Pegasus:Multiscope can provide the data for critical agricultural decisions such as smart monitoring for field drainage or ripeness.
"The Pegasus:Multiscope proves how far UGVs have advanced to help significantly increase efficiency in civil engineering, border patrol, and a range of commercial applications," said Kuldar Väärsi, CEO, Milrem AS. "We're thrilled to partner with Leica Geosystems for the first product in the Multiscope modular UGV series and demonstrate how our combined technology offers reduced labor costs, faster results, and much higher reliability than existing options."
Source: AFP