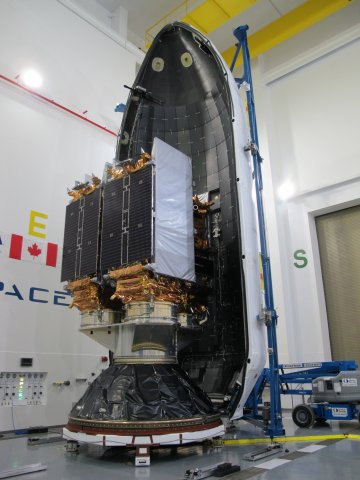 Canada: MDA, a Maxar company has announced today that the three RADARSAT Constellation Mission (RCM) satellites developed by MDA for the Canadian Space Agency are performing according to plan. The satellites launched this morning aboard a SpaceX Falcon 9 rocket from the Vandenberg Air Force Base in California and began sending and receiving signals from space. The satellites will now go through a series of in-orbit manoeuvres and tests before entering service later this year.
MDA is the prime contractor for the project and was responsible for the engineering design, construction and testing of the three satellites, the ground segment and operations development. Launch was provided by MDA subcontractor SpaceX. MDA is also providing mission operations services for the first year on orbit, supporting the integration of RCM into mission-critical activities across the Canadian government.
RCM represents a major enhancement of Canada's RADARSAT program, following the successes of RADARSAT-1 and RADARSAT-2. Each spacecraft payload consists of a Synthetic Aperture Radar (SAR) sensor integrated with an Automated Identification System (AIS) sensor.
RCM will provide the Government of Canada with enhanced surveillance, monitoring and management of Canada's coastal and Arctic regions, fisheries, icy waterways, agricultural lands, natural resources, climate and fragile ecosystems, as well as to support highly operational defence capabilities and global disaster relief efforts. The three-satellite constellation is capable of scanning the Earth day or night and in any weather conditions, allowing for daily coverage over Canada's vast territory and maritime approaches.
"We are thrilled to see the RCM satellites successfully launched," said Mike Greenley, group president of MDA. "The RADARSAT Constellation Mission builds on the legacy of RADARSAT-1 and RADARSAT-2, and on Canada's expertise and leadership in Earth Observation from space. RADARSAT data has been critical to enhance the Canadian economy and to ensure sovereignty and security of our vast interests while contributing to our role in the international community on issues impacting our planet."