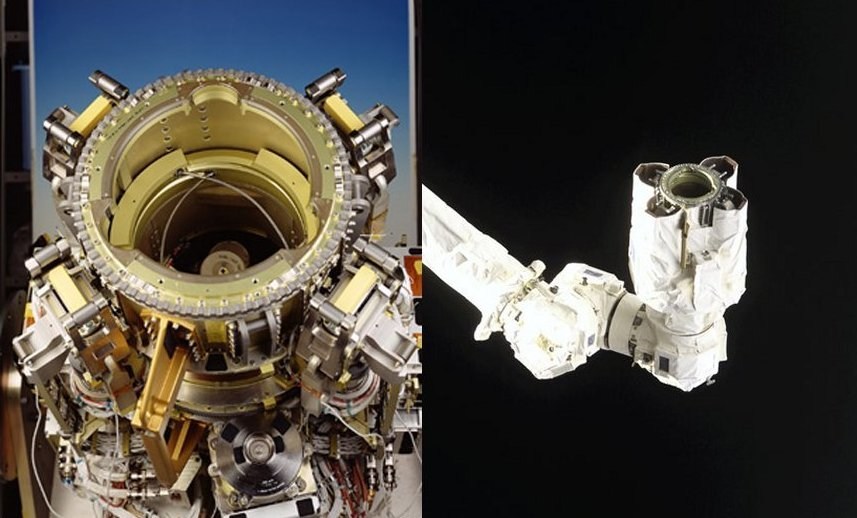 US: MDA, a Maxar Technologies company has announced that a Latching End Effector (LEE) recently refurbished for the Canadian Space Agency, and using expertise that spans two of MDA's Canadian facilities, is planned to fly to the International Space Station (ISS) on a SpaceX Dragon launch vehicle on June 29 to serve as an onboard spare. LEEs are components carried on each end of Canadarm2, on one end of Dextre, and on the Mobile Servicing System. LEEs allow the robots to capture and hold on to objects, or sections of the ISS exterior. Another LEE that returns to Earth for refurbishment later in 2018 provided 17 years of successful operational service in the hostile space environment.
Mike Greenley, Group President of MDA said, "This is good news for MDA and Canada's continued involvement with the ISS mission. MDA's industry-leading robotics that comprises the MSS have been supporting the construction and maintenance of the ISS for over 17 years with advanced equipment and support. MDA has also provided multiple communication systems and antennas to share voice, data and video between the ISS and Earth."
The Mobile Servicing System on the ISS is comprised of Canadarm2, the Special Purpose Dexterous Manipulator known as "Dextre," and the Mobile Base System. MDA built these innovative robotic systems for the Canadian Space Agency. They perform a variety of vital operations ranging from resupply, maintenance, and servicing tasks on the ISS. MDA also designed and built the Space Shuttle robotic arms, also known as the Shuttle Remote Manipulator System, or Canadarm. Canadarm completed 30 years of successful operations when it was retired along with the Space Shuttle program after mission STS-135, which marked the robotic arm's 90th flight.
The Canadian connection to the ISS extends far beyond robotics. Thanks to these space robotics, Canada's contribution to ISS has enabled Canada to send Canadian astronauts on space missions to the ISS. Starting in December, Canadian Space Agency astronaut David Saint-Jacques will be the ninth Canadian to visit the ISS, and the third to complete a long-duration mission aboard the ISS, spending six and a half months in orbit as a member of Expedition 58/59. Canada's status as a space-faring nation has been affirmed through its advanced technology contributions to the ISS and to its commitment to the Canadian Space Program.