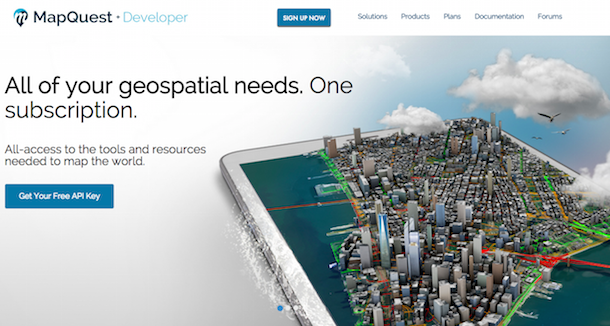 US: MapQuest has announced important updates to its geospatial platform, and has refreshed a global suite of tools, resources, and functionality supporting the development of rich and engaging maps across Web, mobile Web, and desktop environments.
With adding Developers Geospatial Toolkit, the new MapQuest offers scalable, customizable solutions for businesses of any and a continued commitment to delivering top-tier service.
This significant update to MapQuest's enterprise offering and developer tools comes shortly after the company announced its partnership with map design and infrastructure platform Mapbox earlier this year and demonstrates continued investment in their B2B product stack.
More Perks and Flexibility with MapQuest + Developer Geospatial Toolkit
APIs and SDKs built with a mobile-first mindset serve as the foundation for a myriad of business solutions.
Proven geocoding solution with accurate, easily-verifiable results for forward, reverse, and batch geocoding.  A la carte and flexible licensing terms allow for geocode use with or without a map and unbundled from other services.
Robust routing capabilities offering point-to-point, multipoint, optimized, and route matrix functions offered with a number of customization options; perfect for mileage reimbursement, routing applications or other types of logistics applications.
Search capabilities that go beyond searching for Points of Interest; spatial search capabilities — including radius, rectangle, polygon, and corridor searching functions — are the core of many custom directories and retail location finders.
Businesses large and small benefit from tiered pricing and easy access to a proven geospatial platform that was built to scale as demand fluctuates while maintaining the security and reliability required by business-critical applications.
Use of licensed data via TomTom and open datasets via OpenStreetMap with any solution in the GeoSpatial Toolkit.
Enhanced Developer Tools and Experience
Augmented API service layer, powered by Apigee™, which provides the provisioning experience, usage analytics, and documentation that developers expect.
Refreshed Developer Network reduces the amount of time from sign-up to 'hello world' by offering near-instant access to the entire suite of MapQuest APIs and SDKs.
Need a reliable month-to-month paid service plan?  Easily sign up for a paid plan on the MapQuest Developer Network.
Standardized release/update process across all APIs and SDKs including our world-class geocoder.
As part of the partnership with Mapbox announced earlier this month, customizable basemaps, satellite imagery, terrain, and additional tools powered by Mapbox will be available to MapQuest developers.
Improved Developer Blog offering knowledge network and support at https://devblog.mapquest.com/
"The launch of the new MapQuest + Developers Geospatial Toolkit underscores our commitment to partner with developers and business leaders to meet the global mapping and data provisioning needs of their companies and end-users," stated Brian McMahon, General Manager of Mapquest. "This is why we offer a full suite of exceptional geospatial products and data that are easily accessible to the entire developer community building for business large, small, or start-up."