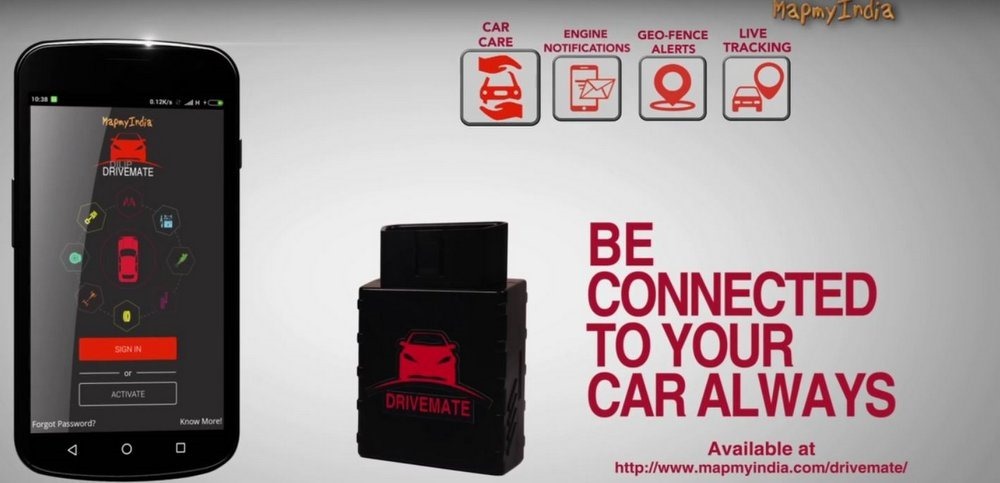 India: MapmyIndia has launched its next-generation Connected Car IoT (Internet of Things) technology called DriveMate. A simple yet powerful plug-and-play device, DriveMate offers the most comprehensive, real-time monitoring of your car and fleet of vehicles from wherever you are. The plug-and-play device can be easily installed in less than 5 seconds by the car owners. It simply plugs into the OBD-II port underneath the steering wheel, which is present in nearly all cars sold in India in the past 15 years.
This removes the need for any complex wire cutting or installation and keeps the vehicle's warranty intact. Car owners can easily move DriveMate from one car to another if they want to monitor different cars, and also monitor multiple cars or their entire fleet.
The company has made it available on Android, iOS & Windows platform with powerful features, a few of which are: Live location tracking shown on MapmyIndia's best-in-class maps down to building-level detail; Driving behaviour insights – such as harsh acceleration, harsh braking and harsh cornering; SMS/ Email alerts for vehicle theft/misuse, engine on/off, over-speeding, idling, and entry/exit of geo-fences; and Reminders for car servicing, pollution or insurance expiry.
Another variant of the product, DriveMate Max, additionally gives the car owner in-app connectivity with their car dealer or service centre, so they can simply tap to request roadside assistance if the car has broken down or car servicing when service is due. Upon receiving the request, the dealer automatically gets the car's current location and can dispatch its service vehicle, removing stress for the car owner and ensuring speedy resolutions to problems.
Source: MapMyIndia