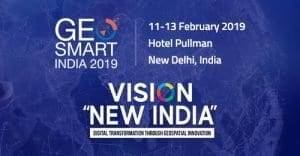 India:  'MapmyIndia' has confirmed its presence as a Co-Sponsor at GeoSmart India 2019 scheduled from 11th-13th February'19 at Hotel Pullman, New Delhi. India's leader in premium quality map data, GPS Navigation, tracking, location apps & GIS solutions, MapmyIndia possess decades of experience in the manufacture and marketing of laser measurement and 3D imaging solutions which can build a smarter and more sustainable urban world.
India is on the anvil of major evolution, which is largely supported by technical advancements that will give rise to a digital world where efficient and smart systems will enable a clean, healthy, secure, inclusive and a robust New India. Geospatial Technology is extremely essential as it provides a platform that is capable of assimilating real-time data. The integration of geospatial technology in the New India Vision will enable the development of applications that have the potential to revolutionize
productivity and efficiency across the industry.
"I am proud to announce MapmyIndia as our Co-Sponsor for GeoSmart India 2019, as they are putting an effort to make our world better through maps, location technologies & IoT and trying to bring in innovation in the areas of maps, navigation, telematics and analytics. In addition, it is very exciting to have Business leaders and Technology experts from MapmyIndia to discuss future technology trends.",said Anamika Das, Vice President, Outreach and Business Development.