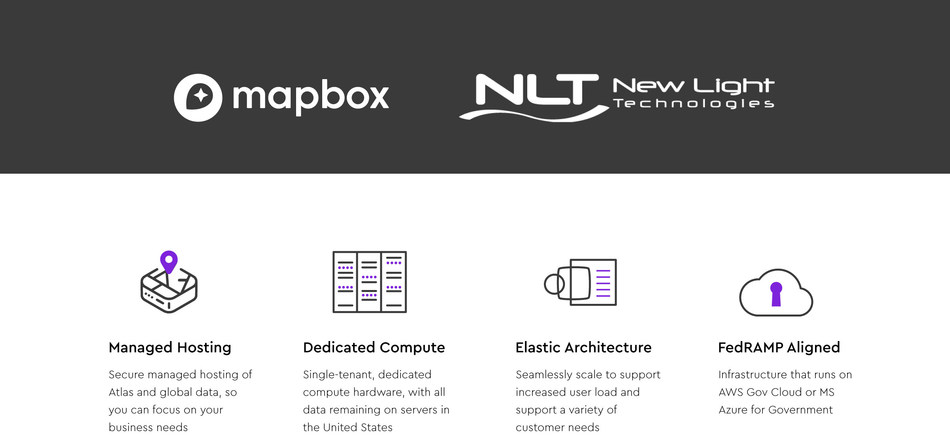 USA: Mapbox and New Light Technologies, Inc. has announced a strategic partnership to deliver Mapbox's on-premises solution, Mapbox Atlas, as a managed service offering to federal, state, and local governments. As demand grows for live, cloud-based location software to be more accessible, secure, and scalable with modern enterprise architectures, organizations are increasingly looking for innovative software and implementation teams that can meet these expanding requirements. This new partnership will help organizations move swiftly and efficiently to the cloud, while enabling modern and secure live location services.
Benefits of the Mapbox Atlas Managed Service Offering (MSO):
Secure managed hosting of Mapbox Atlas and full suite of data & development tools
Single tenant / dedicated compute hardware with all data remaining in the U.S.
Elastic architecture that seamlessly scales to each customer's needs
Runs on AWS GovCloud and MS Azure for Government
FedRAMP aligned infrastructure (future FedRAMP accreditation planned)
Easy sign-up process and simple pricing model not based on named users
Both companies share a commitment to delivering the best value products and services to customers. Mapbox is the leading location data platform for mobile and web applications while New Light Technologies is renowned for providing high-quality design, implementation, and management services for geospatial and information technologies across a range of government, non-profit and industry sectors. The partnership strengthens Mapbox's service capacity and expands NLT's geospatial cloud offerings.
"Many organizations have been mandated to move to the cloud, but struggle to know how and where to begin.  Adapting to changing demands for performance means constant configuration, scaling, and maintenance of server architectures. Not every organization can do this alone," said Anthony Calamito, Director of Government Programs at Mapbox. "The Atlas MSO lets customers rapidly start mapping in a secure cloud environment, without the overhead of DevOps engineers to keep the lights on."
"It has traditionally been a challenge for many organizations to easily procure, deploy, and maintain enterprise geospatial infrastructures to meet changing functional, security, and business requirements. Our new Mapbox Atlas MSO provides an incredibly attractive and cost-effective solution and a way for customers to quickly realize the growing benefits of the cloud," said Rob Pitts, Program Manager at New Light Technologies.