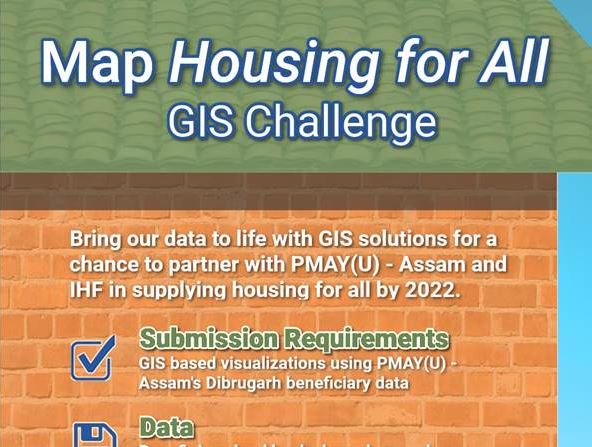 India: The Indian Housing Federation and Pradhan Mantri Awas Yojana (Urban) – Assam has announced the Map Housing for All GIS Challenge.
All GIS experts are welcome to participate. Pradhan Mantri Awas Yojana(U) – Assam and the Indian Housing Federation are tackling the immense goal of housing for all by 2022 under the Housing for All Initiative.
PMAY(U) – Assam has collected a mass of beneficiary data but has not been able bring that data to life. We are looking for a partner to take the data and help us tell the story of PMAY(U) – Assam.
The contest is to be creative and design an immersive visual experience, using the town of Dibrugarh as a case study. The winner of the challenge will get an opportunity to pitch their work to PMAY(U) – Assam and IHF with the possibility of partnering on more projects in the future.
In addition, the challenge includes an INR 65,000 prize pool with the winner receiving INR 40,000 and the runner-up INR 25,000.
Registrations for the program are open. To register and learn more about the challenge visit our website. For any queries write at [email protected].