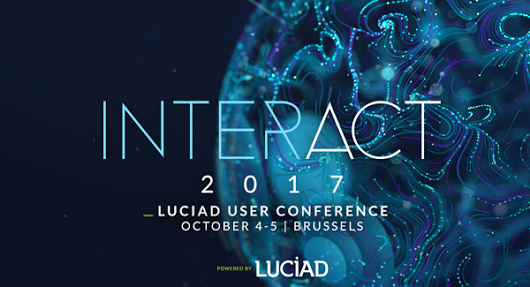 Belgium: Luciad announced its 4th annual INTERACT User Conference to be held on October 4th – 5th 2017. Over 300 entrepreneurs, developers, GIS experts and CEOs will come together for two days of industry insight, collaboration and innovation at Square, The Brussels Meeting Centre, followed by a special social event and awards dinner at the BOZAR Centre for Fine Arts.
Geospatial professionals will have the opportunity to engage not only with their peers at INTERACT, but also attend talks from many high-profile industry experts from organizations such as NATO, Oracle and Airbus who will share their latest geospatial innovations and explain their collaborative work with Luciad.
In addition to speakers from the traditional Luciad domains such as Defence & Aviation, presenters from areas such as the Internet of Things and Virtual Reality have also been included on the two-day agenda. At the end of the conference, the roadmap towards the next evolution of Luciad's product suite will be revealed with a sneak preview of some of its new functions and features.
At INTERACT 2017, there will be a significant emphasis on development. Attendees can schedule a 'meet and greet' with the developers and attend a hands-on workshop where they can build their own Luciad application. Luciad will also host its Partner Advisory Breakfast at the conference, a networking event specifically for Luciad users to engage with the company's C-level executives about the challenges users are facing across the various industries, and to learn of future requirements.
The conference is sponsored by leading geospatial and technology pioneers including Canon, Oracle, Digital Globe and Unifly and is supported by media partners such as Directions Magazine, Geospatial World and GeoConnexion.
Lida Joly, CMO of Luciad, commented "This year's User Conference offers unparalleled insight into the geospatial industry and provides a plethora of rich networking opportunities. We are excited to bring together prominent thought leaders, innovative content, and people passionate about driving forward geospatial innovation. Our leading line-up of speakers and the networking opportunities means that INTERACT 2017 will be an intimate experience for attendees looking to develop valuable industry relationships".
Log on to interact.luciad.com to know more for the conference.