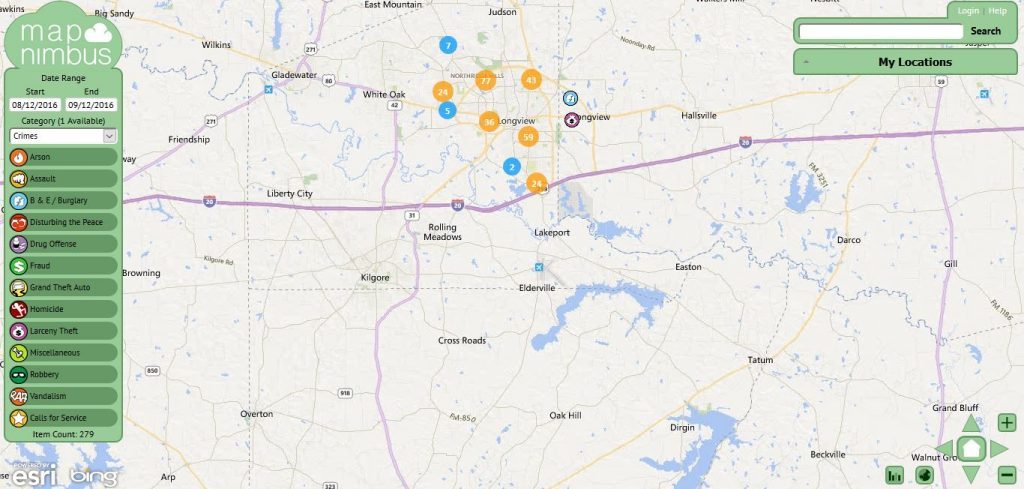 US: The Longview Police Department of Texas, the U.S., has received an interactive crime mapping tool to keep residents informed about crime taking place in their neighborhoods. The map is available of the police department's website, which allows residents to set up alerts for incidents that happen near a set location. The map also shows details of reported crimes throughout Longview.
"I think this will be a good tool for the community to be able to see what is occurring in their neighborhoods and throughout the city," Longview Police Chief Mike Bishop said while introducing the program.
The map is created by a North Carolina-based Geographic Technologies, which offers mapping technology to more than 700 cities. The program behind Longview's new interactive crime map – MapNimbus – is designed to make it easy for residents to find out what's happening near them.
The new map includes crime data for most major reporting categories dating to 2014. Listed crime categories are arson, assault, burglary, disturbing the peace, drug offenses, fraud, grand theft auto, homicide, larceny/theft, robbery and vandalism. The map does not list sexual assault crimes or crimes against children because of privacy concerns for the victims.
Information listed on the map is updated at 3 a.m. each day based on the previous day's police reports, with police officials cautioning that information included on the map is subject to change and delays. When using the map, residents are able to zoom in to particular areas or streets. Clicking on an individual pin will pull up information for the crime that happened there, the time it occurred, the general block number and the case number.
The map does not provide detailed reports about crimes; the police department said residents will be required to file an open records request for specific reports. But residents are able to set up notifications of crimes that happen in specific areas. Residents also are able to create unofficial statistical reports within an area — letting them see trends and crime history.
To do so, residents can create an account on the MapNimbus site and set up specific alerts for the areas they want. The map's purpose, the department said, was to help residents be aware of criminal activity taking place in their neighborhoods.