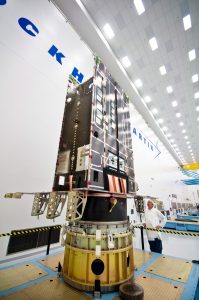 US: On July 13, Lockheed Martin's second, fully assembled GPS III space vehicle (SV) completed a realistic simulation of its future launch experience and passed this critical acoustic environmental test with flying colors, the company said.
During acoustic testing, the GPS III SV02 satellite was continuously blasted with sound reaching 140 decibels in a specialized test chamber equipped with high-powered horns. For comparison, that is about as loud as an aircraft carrier deck and human hearing starts to be damaged back at about 85 decibels, the company said. The test uses sound loud enough to literally shake loose anything not properly attached.
"With this launch-simulation test, we are talking about sophisticated, advanced satellite technology and electronics enduring tremendous forces and then working flawlessly afterward," said Mark Stewart, Lockheed Martin's vice president for Navigation Systems. "Passing this test with GPS III SV02 further validates the robustness of our GPS III design. We credit this success and risk-retirement to all the pathfinding work we accomplished early in the program."
The GPS III SV02 satellite is part of the U.S. Air Force's next generation of GPS satellites and will bring critical new capabilities to the warfighter. GPS III will have three times better accuracy and up to eight times improved anti-jamming capabilities. The company's first satellite, GPS III SV01 — which is in storage awaiting its expected 2018 launch — completed acoustic testing in 2015.
Lockheed Martin's GPS III satellite design includes a flexible, modular architecture that allows for the insertion of new technology as it becomes available in the future or if the Air Force's mission needs change. Satellites based off this design are already proven compatible with both the Air Force's next generation Operational Control System (OCX) and the existing GPS constellation.