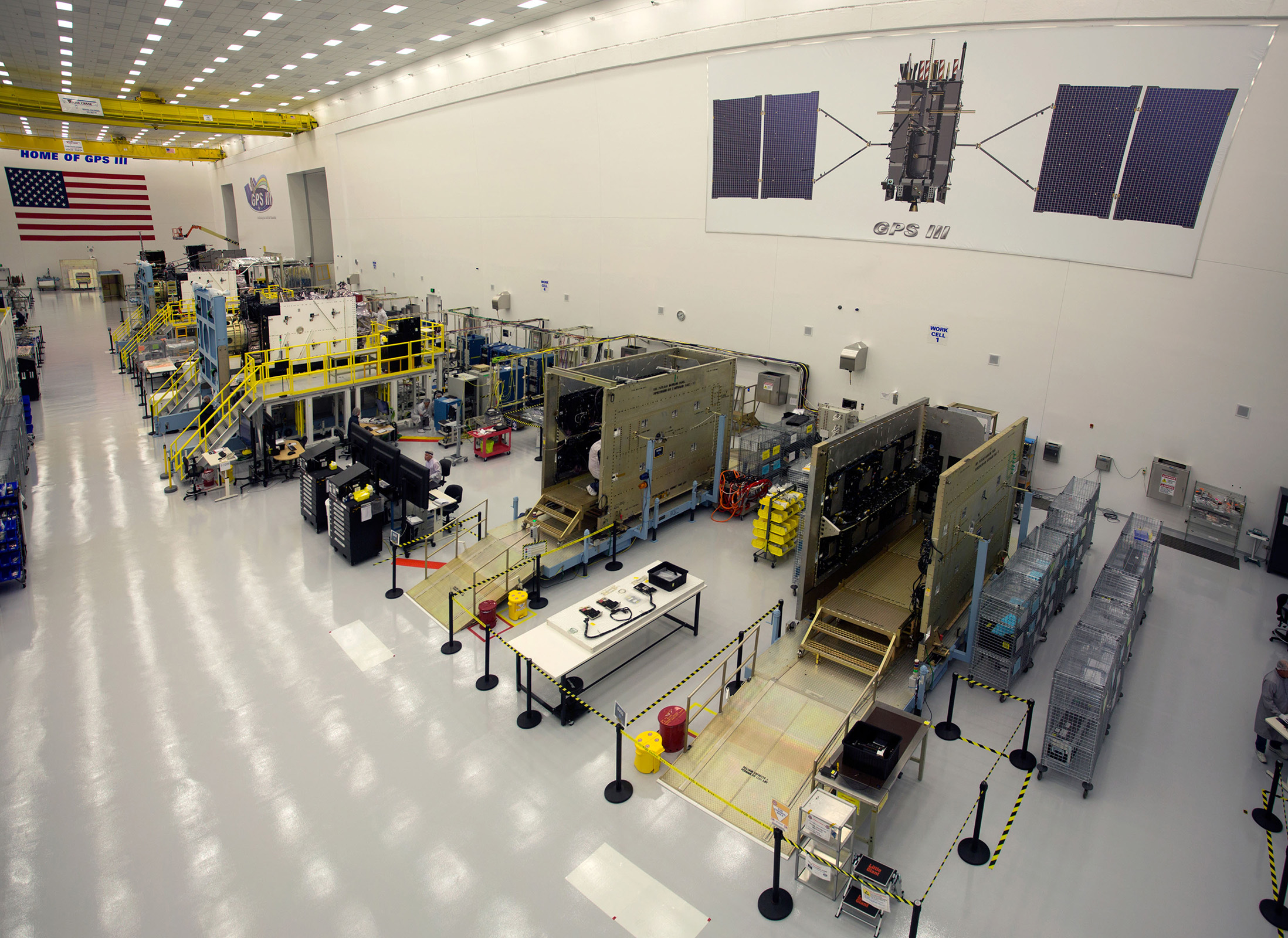 US: The U.S. Air Force's third GPS III satellite undergoing production at Lockheed Martin advanced satellite manufacturing facility has been successfully integrated into a complete space vehicle.
GPS III Space Vehicle 03 (GPS III SV03) comes after the first two GPS III satellites on a streamlined assembly and test production line.
GPS III SV03 was assembled in Lockheed Martin's GPS III Processing Facility, a $128 million factory designed in a virtual reality environment to boost efficiency and slash costs in satellite production. Now fully assembled, the third satellite is being prepared for environmental testing.
GPS III SV03 closely follows the company's second satellite in the production flow. GPS III SV02 completed integration in May, finished acoustic testing in July and moved into thermal vacuum testing in August. The second GPS III satellite is expected to be delivered to the U.S. Air Force in 2018.
The fourth GPS III satellite is close behind the third. Lockheed Martin received the navigation payload for GPS III SV04 in October and the payload is now integrated with the space vehicle. The satellite is expected to be integrated into a complete space vehicle in January 2018.
In August, Lockheed Martin technicians began major assembly work on GPS III SV05.
All of these satellites are following Lockheed Martin's first GPS III satellite, GPS III SV01, through production flow.
"GPS III is the most powerful and complex GPS satellite ever designed and built, and it's now into a smooth production flow. The real credit goes to the Air Force for all the Back to Basics work done in advance, reducing program risk for all the GPS III satellites going forward," said Mark Stewart, Lockheed Martin's vice president for Navigation Systems. "We are looking forward to bringing GPS III's advanced capabilities to our warfighters in 2018."
Lockheed Martin is under contract for ten next generation GPS III satellites as part of the US Air Force's modernized Global Positioning System. GPS III will have three times better accuracy and up to eight times improved anti-jamming capabilities. Spacecraft life will extend to 15 years, which is 25 percent more than the latest GPS satellites on-orbit today. GPS III's new L1C civil signal also will make it the first GPS satellite to be concurrently operable with other international global navigation satellite systems.
Lockheed Martin's unique GPS III satellite design includes a flexible, modular architecture that allows for the incorporation of new technology as it becomes available in the future or if the Air Force's mission needs some changes. Satellites based on this design have already proven compatible with both the Air Force's next generation Operational Control System (OCX) and the existing GPS constellation.