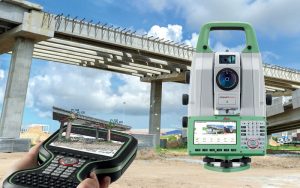 US: Leica Geosystems has announced the Leica Viva GS16 and updated Leica Captivate and SmartWorx Viva software. The GS16 is a truly self-learning GNSS receiver, able to automatically select the optimal combination of GNSS signals and stay connected with or without reference links.
This new release enhances the Leica Captivate Experience released last year. With the addition of self-learning GNSS, increased lock-on capability in the MultiStation and various upgrades to the immersive Captivate software, Leica Geosystems continues the focus on providing the best customer experience possible.
"When we developed the Viva GS16 receiver, we drew on 30 years of experience in GNSS to make the best receiver we have made to date," said Bernhard Richter, Leica Geosystems GNSS business director. "With its flexible design, this receiver is a safe investment for the future while also bringing immediate benefits using the new GNSS signals and SmartLink."
In addition, Leica Captivate v2.00 and SmartWorx Viva v6.00 have also been released. This upgrade brings Dynamic Lock, the increased lock-on capability of ATRplus in the MultiStation. Now significantly enlarging the search area for locking onto a moving target, the MultiStation can be used  in standard surveying or high-dynamic machine control applications for better performance.
This upgrade also brings a long-range Bluetooth capability for the Leica CS35 tablet, enabling long-range control for robotic total stations and more flexibility on any site. Users can now also position and orientate a total station to any object, allowing use on a moving platform for increased mobility.
"With these improved benefits, we continue to invest in the Leica Captivate Experience to provide users with the most enjoyable time in the field and easiest analysis in the office," said Alastair Green, software and controllers program director. "As we keep listening to customer feedback and innovating, the Leica Captivate Experience keeps getting better and better."
Source: Leica