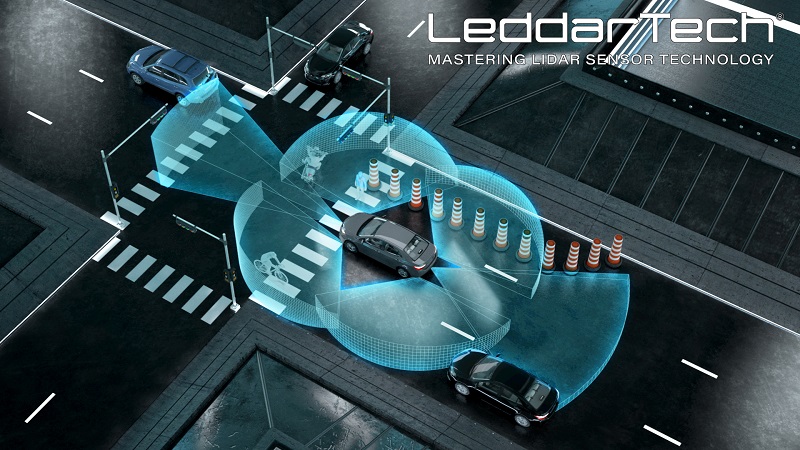 US: At CES 2018, LeddarTech will present its LeddarCore LCA2, the first 3D solid-state LiDAR (SSL) integrated circuit (IC) that will enable mass production of automotive LiDARs, in the Leddar Ecosystem pavilion. The LeddarCore LCA2 has been named a CES 2018 Best of Innovation Awards Honoree in two categories: Vehicle Intelligence and Self-Driving Technology, and Embedded Technologies.
This groundbreaking product is the world's first solution enabling rapid industrialization of 3D solid-state flash LiDARs that meet the automotive industry's stringent requirements in terms of cost, performance and reliability. Delivering on LeddarTech's aggressive product roadmap to support autonomous driving applications, the LeddarCore LCA2 makes commercial SSL deployments by automotive OEMs possible as early as 2020.
The latest SSL solutions based on the company's flagship LeddarCore solid-state LiDAR ICs will be on demonstration in the Leddar Ecosystem pavilion at CES 2018. These include LCA2 IC engineering samples and LCA2-based 3D Flash LiDAR modules (A-samples). Also on display will be discrete implementations of LiDAR systems showcasing the LeddarCore LCA3, which is currently under development with the first samples to be made available in 2018.
The powerful LeddarCore ICs generate up to 245 000 digitized waveforms per second, from nearly 1.3 billion samples and as many sample-based arithmetic operations. These waveforms are further processed using LeddarTech's proprietary signal processing algorithms, which perform over 25 billion operations per second; this produces a rich LiDAR data set enabling the most advanced ADAS and autonomous driving applications.
Backed by a recent investment of US$101 million from strategic partners, in addition to multiple commercial agreements with key automotive industry players, LeddarTech sets itself apart from other LiDAR suppliers with its unique business model based on patented Leddar technology. Through this approach, LeddarTech delivers its core proprietary LiDAR know-how to Tier-1 manufacturers embedded within LeddarCore ICs, and partners with them to develop custom SSL reference designs that meet the specifications of individual OEMs. The strategic investors, who have also signed commercial agreements with LeddarTech, include Delphi, IDT, Magneti Marelli and Osram.
"More key suppliers and Tier-1 manufacturers are turning to us over other LiDAR vendors because we deliver on our promises," said Charles Boulanger, LeddarTech CEO. Added Boulanger, "They now see LeddarTech as a definitive reference in automotive SSL and recognize that the combination of our unique technology and flexible business model represents the safest and fastest path to high-volume production and deployment of LiDARs for autonomous driving applications."