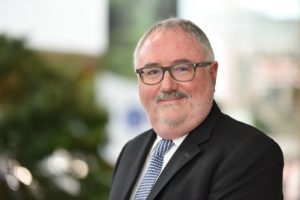 UK: Kieran Murphy has been appointed as the new Non-Executive Chair of Ordnance Survey (OS) by the Business Secretary Sajid Javid. Murphy joins Britain's mapping agency for an initial three-year period and will lead the OS Board to ensure that Britain continues to benefit from the best geospatial information, while maintaining sound finances and good governance.
At the occasion, Kieran Murphy commented, "It is an honour to be appointed as Chairman of OS and I look forward to steering this iconic organisation through the next stage of its development. OS's strategy is clear and ambitious: to build the capability to provide the next generation of geospatial data, providing the essential underpinning for a very wide range of public and commercial services and facilitating the development of a 'smarter' more interconnected Great Britain. OS will also promote its expertise internationally, working with other countries to develop and use their national location data."
Nigel Clifford, OS's CEO, adds: "Kieran brings a wealth of experience to the role, and his knowledge, skills and expertise will be invaluable to us. This is an era of massive change, and location will be at the heart of ensuring the most effective and efficient use is made of the opportunities that arise. It is vital that we have a strong Board, and Chair, to drive our strategy and demonstrate the excellence of OS and the value and social impact, which we are delivering in Great Britain and across the world. I and my Board colleagues welcome, and very much look forward to working closely with Kieran."
Kieran Murphy began his career in 1980 at HM Treasury. From 1988, he spent 15 years as a senior corporate finance adviser at Kleinwort Benson, advising on a number of landmark European transactions. He was global head of the industrial sector investment banking team and a member of the investment banking division management committee. Kieran Murphy joined the corporate finance advisory business, Gleacher Shacklock as a partner in 2004 and retired from the firm in December 2015.
He is currently a Non-Executive Director of Aliaxis SA, the world's leading producer of plastic building materials, where he chairs the audit committee and of University College London Hospitals NHS Foundation Trusts, where he chairs the Investment Committee. He will join the Board of the University of London later this year.
Source: Ordinance Survey