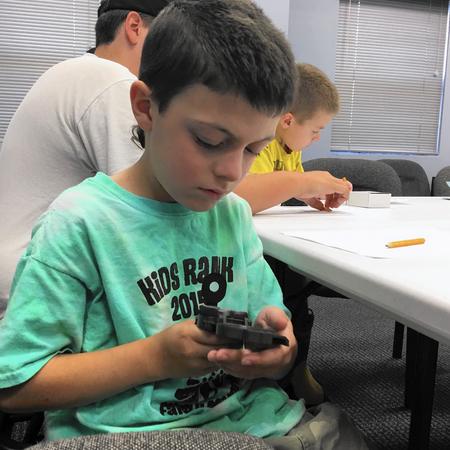 US: In a navigational class held in the Great Lakes Naval Museum on Saturday, a replica compass used by soldiers in World War II, was provided to all those who participated. Back then, the navigational tool was used by the Italians, Portuguese, English, Spanish and Dutch in their explorations of the Atlantic Ocean and in their journeys to barter and trade for goods.
"The first compass in the western world appeared in Italy around 1300," museum intern Kelli Akioka-Smith told her students.
Now, in addition to sailors, it's used by hikers, campers and athletes who practice orienteering. But the Chinese knew about magnetism as early as 2637 B.C. And that's how the compass works, Akioka-Smith said. The north end of a compass magnet is always drawn to align with earth's magnetic field. For 11-year-old Peter Makula, of Wheeling, the lesson was fascinating.
"I'm a science fan so I'm into technology," Makula said.
Although the compass could barely be considered new technology, Akioka-Smith said ships and air crafts still use it for navigation to this day. It's part of the military's basic training, she said. While the GPS has revolutionized how people get around, a compass doesn't need an electrical system to work. And in an emergency, "you want to be prepared with something manual to use," Akioka-Smith told the kids.
Never Eat Shredded Wheat is how 10-year-old Alex Davis, of Great Lakes, remembers directions and what the N-E-W-S in his compass represent. He said his mom taught him that. On Saturday, Alex and his younger brother 5-year-old Zach were among a handful of kids who used those cardinal points to make their way through a scavenger hunt outside the museum that tested their newly learned skills.
The groups, joined by their parents, resembled players of "Pokémon Go" as they held their compasses out in front of them with heads down to see where it was taking them.
"This is very informative and educational," said Philip Heun, of Highland Park. The Navy dad was there with four sons Saturday. "We try to make the lessons fun as well as educational," Akioka-Smith said.
Each month the museum offers a Navy-themed, STEM-based class, free of charge to the public. Once there, families are invited to explore the museum to learn about the Navy.