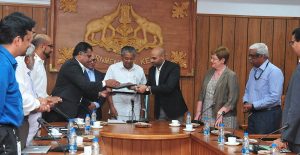 India: The Kerala government signed a MoU with Airbus BizLab India, a global aerospace accelerator which is part of Airbus, for establishing the Aerospace Innovation Centre in Thiruvananthapuram. 
The MoU was signed by Anand E Stanley, president and managing director, Airbus India and South Asia, and Saji Gopinath, CEO, Kerala Startup Mission (KSUM), in the presence of Chief Minister Pinarayi Vijayan. 
Under the agreement, the Airbus will provide support and mentoring for startups in Kerala and conduct regular workshops and discussions with experts from the aerospace and defense sectors.
Further, the France-headquartered company, which has set up facilities in Bengaluru, Toulouse (France), Hamburg (Germany) and Madrid (Spain) to create a global network of business accelerators, is to run training programmes to acquaint participants with aerospace technologies.
"It is a landmark agreement that will give a huge fillip to Kerala's efforts to nurture innovations and startups in the aerospace and defense sectors. It will help the startups in the state to leverage the expertise of Airbus in transforming their innovative ideas into scalable businesses," said Tom Jose, Kerala Chief Secretary.
Airbus BizLab, which has pioneered the corporate approach to accelerate an idea into scalable business, provides wide-ranging support for early-stage projects in the form of a six-month acceleration programme, through which entrepreneurs and startup businesses are given access to a large number of coaches, experts and mentors across various domains, such as technology, legal, finance, marketing and communications, easing prototyping and market access.