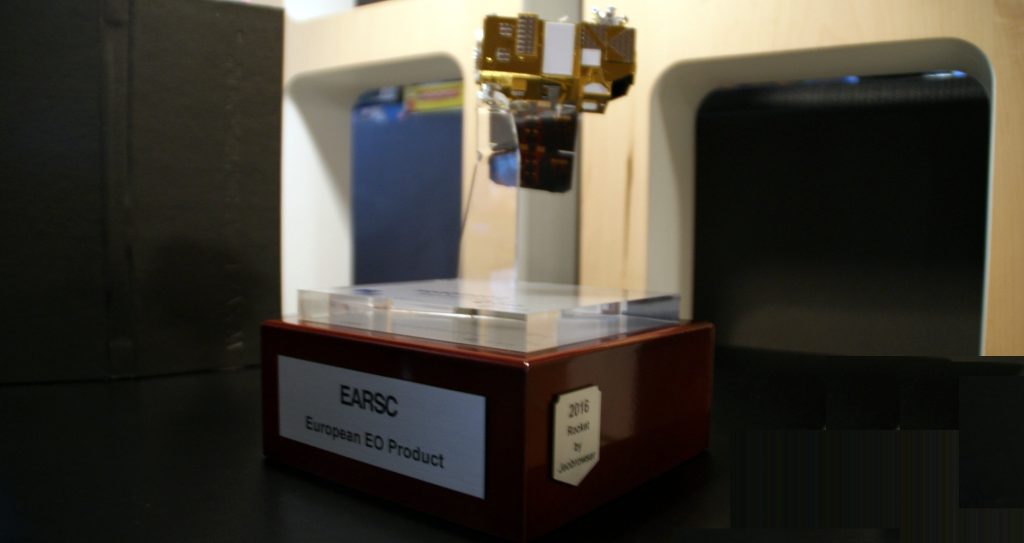 France: The EARSC competition that goes under the umbrella of the EU Framework Program for Research and Innovation ConnectinGEO project recognised the "Rocket in your pocket" by Jeobrowser as the 2016 European EO product of the year. The award was given to Jeobrowser for developing the most innovative product that integrates an element of open data.
The winner this year was decided based on things like commercial product integrating an element of open data resources; type of innovation of the product; challenge: problem to be solved and solution this product will solve; and expected impact and clients to address. The process involved 16 companies in the finalists' list.
The "Rocket in your pocket" application provides a unique entry point to search, visualize and download Earth Observation products from various catalogs. Collections are available: for search : Sentinel-1, Sentinel-2, Landsat 8, SPOT 6-7 and Pleiades images for download : Sentinel-1, Sentinel-2 and Landsat 8 data. The database is updated daily from the CNES PEPS platform (Sentinels) and from the USGS platform (Landsat).
EARSC represents the Earth Observation geo-information services companies in Europe. Today EARSC has 75 members coming from more than 22 countries in Europe. Our members include both commercial operators of EO satellites, IT, downstream and value-adding companies. The sector plays a key role in providing value-added geo-spatial information to its customers in Europe and the world. In 2014, the revenue of the European EO services sector is estimated to be around €900m for approximatively 450 companies and giving work to over 6500 highly skilled employees.