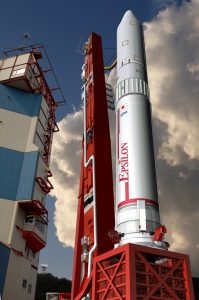 Japan: Japan's space agency will launch the third version of its Epsilon small rocket on January 18. The rocket would send Earth observation satellite ASNARO-2 into space.
ASNARO-2 was developed by NEC Corporation as part of the project funded by Japanese Ministry of Economy, Trade and Industry. JAXA, NEC Corporation's contractor, is in charge of the ASNARO-2 launch operations.
JAXA (The Japan Aerospace Exploration Agency) said the Epsilon-3 will be launched at 6:06 AM from the Uchinoura Space Center in the prefecture of Kagoshima, Japan
The launch was originally slated for January 17 but was postponed due to bad weather conditions.
The Epsilon was designed to carry a small satellite into space at low cost.
The Thursday launch would be the first of an Epsilon rocket carrying a satellite developed by a private company.
JAXA hopes the Epsilon-3 project leads to business contracts from emerging nations.