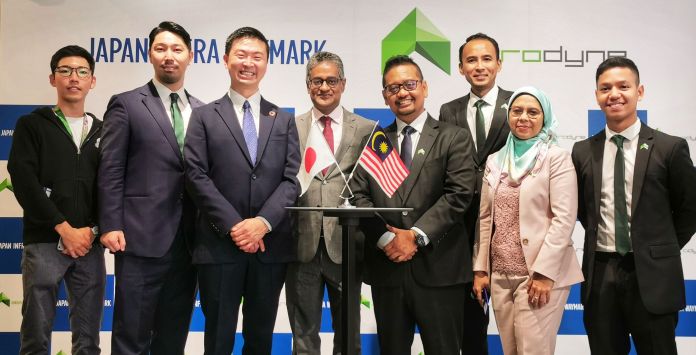 Malaysia: Japan Infrastructure Waymark Co. Ltd (JIW), a wholly owned subsidiary of Nippon Telegraph and Telephone West (NTT), has  signed an agreement with leading UAV (unmanned aerial vehicle) service provider Aerodyne to collaborate on drone-based services for infrastructure management, both within Japan and on behalf of overseas Japanese companies.
Aerodyne Chief Executive Officer, Kamarul A. Muhamad elaborated;
"Aerodyne is honored and excited to enter into this collaboration with JIW. Our aim is not just to help develop and deliver drone-based enterprise solutions in Japan, but also for the global market – especially for Japanese companies operating outside Japan – working closely with JIW."
Aerodyne is a world-leading AI-driven drone solutions provider, with a presence in 25 countries around the world and growing.
"Our technology is being used globally to help drive digital transformation for management and inspections of key infrastructure assets. From national grid to solar, wind and more. A solution that makes business sense. A solution that is faster, better, cheaper and safer than the one that we replace."
"Our strategy for Japan is to build upon this success and develop turnkey effective solutions for the Japanese market."
JIW's CEO, Takumi Shibata said, "Aerodyne's proven international track record, workflow, training processes and solution adaptability has great potential in the Japanese infrastructure industry and makes them a strong partner to work with."
"We have demonstrated confirmed cost reduction effects of 20 to 90% for a wide range of infrastructure companies in Japan. JIW offers introductory consulting for drone infrastructure inspections and one-stop services – from various administrative applications and neighborhood support to aerial photography with drones, inspection diagnosis and reporting using AI (artificial intelligence). In addition, we plan to conduct a working-case analysis alongside Aerodyne, with the aim of expanding the suite of drone solutions deployed within the NTT West Group"
JIW was established in April 2019 with the aim of providing efficient infrastructure maintenance utilizing drones, solving major social issues such as the ageing public infrastructure in Japan and addressing the increasing shortage of infrastructure maintenance engineers.
Takumi Shibata further added,  "We will also contribute to the creation of a Malaysian inspection centre to address the challenges created by the supply and demand imbalance of inspection personnel in Japan, caused mainly by population decline and an ageing workforce.  This inspection centre in Malaysia will enable us to take advantage of internal and external price differences related to labor costs and provide high quality and inexpensive infrastructure inspection services. We will also support economic growth in Asia by contributing to the creation of employment opportunities in Malaysia."
Also present at the announcement ceremony was Vice President of Malaysia Digital Economy Corporation (MDEC), Gopi Ganesalingam. Aerodyne is a member of MDEC's Global Acceleration and Innovation Network (GAIN) program, which helps high-potential Malaysian tech companies to scale up regionally and globally via the four pillars – market access, access to scale-up capital, mentoring and visibility.
Welcoming the move, MDEC CEO Surina Shukri said, "The collaboration between Aerodyne and Japan Infrastructure Waymark (JIW) will tap significant drone-tech related opportunities in Japan. MDEC sees a huge potential in local companies leading in various global markets such as the UAV sector and the application of drone technologies to impact various industries globally."