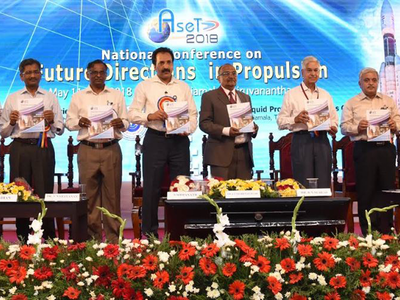 India: Indian Space Research Organisation (ISRO) plans to develop world-class propulsion technology to ensuring cost effective re-usable, recoverable, re-startable and reliable space launches, said ISRO chairman K Sivan in his video message for the annual National Conference on Emerging Trends in Aerospace Technologies – 'ASET' 2018 on future of propulsion at Liquid Propulsion Systems Centre on Friday, reported the Times of India.
Inaugurating the two-day conference being organized by Aeronautical Society of India (AeSI) Thiruvananthapuram chapter, eminent propulsion expert and LPSC founder director Dr AE Muthunayagam said the conference coincides with the 30th anniversary of LPSC. "India's space programme since its humble beginning at Thumba here has matured with world class capabilities. LPSC, since its inception in 1987, has overcome challenges to develop liquid, cryogenic and electric propellants," he said.
VSSC director S Somnath pointed out that Isro will emerge as the torch-bearer of human spaceflight and interplanetary missions with the latest in propulsion technology which will be cost-effective and environmentally friendly. "Use of light materials and simplifying the technology to ensure soft landing, recovery and reuse of the launch vehicle, thereby ensuring the safety of the crew will be the focus and the future of space travel," he said.