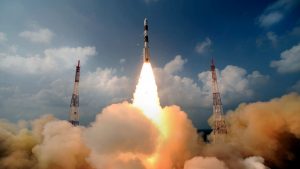 India: The Indian Space Research Organisation (ISRO) on Monday launched a winged-flight vehicle, which is called as the Reusable Launch Vehicle — Technology Demonstrator that is RLV-TD. The vehicle can launch satellites, which is capable of orbiting around the Earth. This is the first time when India has launched its own space shuttle.
After the launch, the RLV-TD glided back onto a virtual runway in the Bay of Bengal. The experiment is known as hypersonic flight. ISRO scientists say that, this can be considered India's own space shuttle. The manufacturing and maintenance cost of the vehicle is very less and it is  reliable and an on-demand space access.
The RLV-TD which resembles an aeroplane, weighs 1.75 tons that is approximately 1,600 kg and is 6.5 m long. A special rocket booster was used to elevate this in the atmosphere. India now has its own constellation consisting of seven satellites that make up the Indian Regional Navigation Satellite System, known as IRNSS.
This system will work together to provide services which include not only terrestrial, aerial and marine navigation, but also mobile phone services, mapping and land surveying data, voice navigation for cars and disaster management. On Thursday the satellite launch took place in the hands of our Prime Minister.
On this occasion he said that it is a great gift from scientist to people. We will determine our own paths powered by our technology with this successful launch. He added that he was dedicating this to Indian sailors & fishermen' courage of exploring the unexplored, it will be known as NAVIC.
Source: Gizmoids