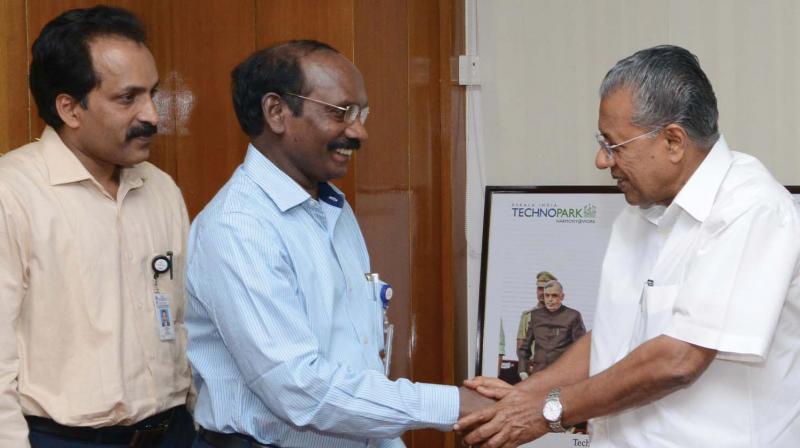 India: Indian Space Research Organisation (ISRO) will work with the state govt. of Kerala to set up a knowledge centre in Thiruvananthapuram. The decision was taken following a meeting between ISRO chief Dr. K. Sivan and chief minister Pinarayi Vijayan. Vijayan entrusted chief secretary Paul Antony, CM's scientific adviser M. C. Dathan and IT secretary M. Sivasankar to hold further talks with VSSC director S. Somanath.
The state will also seek industrial enterprises in IT, electronics and aerospace technology with the help of KINFRA. Dr. Sivan informed Vijayan that Knowledge Centre and Science Museum in memory of former President Dr. A. P. J. Abdul Kalam will be started at the earliest. He said once he returned to Bengaluru, he would take steps to allot funds.  Already the government has sanctioned 1.75 acres for the knowledge centre and science museum at Kowdiar.
The meeting entrusted KELTRON to produce electronic devices for satellites and launch vehicles for the three centres of ISRO in Thiruvananthapuram.  The KELTRON will also manufacture more India developed satellite phones and Navigation with Indian Constellation (NavIC) devices already agreed between fisheries department and Space Application Centre at Ahmedabad.
The chief minister also congratulated the ISRO officials who came out with NavIC for fishermen in the wake of the recent Ockhi Cyclone. The VSSC director also handed out a cheque of INR 1.67 million towards the Ockhi relief fund. The meeting was also attended by ISRO scientific secretary P. G. Divakar, LPSC director V. Narayanan, fisheries minister J. Mercy Kutty Amma and fisheries principal secretary B. Srinivas.