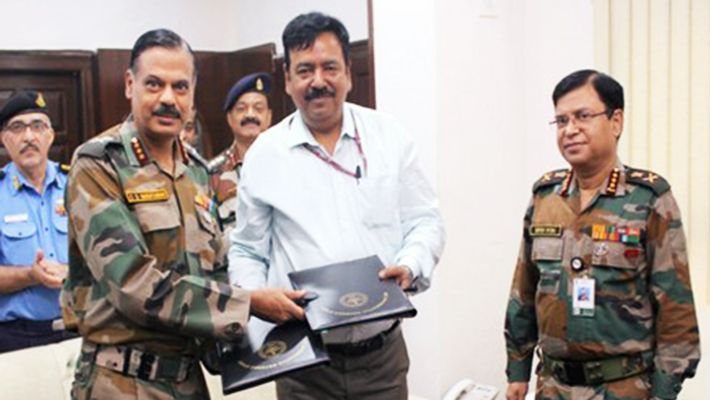 The Indian Space Research Organisation (ISRO) is stepping up its efforts to support the defence forces in the country in offering medical support to soldiers at remote destinations where they would fight both nature and enemy's fury, says a report by the Business Standard.
According to the government, a memorandum of understanding (MoU) for the establishment of telemedicine nodes was signed between the development and education communication unit (DECU) of Isro, Department of Space, integrated defence staff (medical) and the Ministry of Defence.
"ISRO will establish 53 more nodes in the first phase in addition to the existing 20 in various establishments of the Army, Navy and Air Force across the country. This joint initiative by Isro and the Armed Forces Medical Services will radically transform the reach of telemedicine to combat soldiers, airmen and sailors deployed in remote and isolated posts," said Additional Directorate General of Public Information, Indian Army.
The facility will be useful for soldiers in areas like Siachen Glacier where there are no normal medical care services available.
ISRO has been working on telemedicine projects for several years now and has established communication with various hospitals to meet the healthcare demand of the common man and defence personnel in remote parts of the country.
ISRO telemedicine programme, which started in 2001, has been connecting remote/rural/medical college hospitals and mobile units through Indian satellites to specialty hospitals in cities and towns.
ISRO telemedicine network covers various states/regions, including Jammu & Kashmir, Ladakh, Andaman & Nicobar Islands, Lakshadweep Islands, Northeast. Many tribal districts of Kerala, Karnataka, Chhattisgarh, Punjab, West Bengal, Orissa, Andhra Pradesh, Maharashtra, Jharkhand and Rajasthan are also covered under Isro's programme.
According to ISRO website, the telemedicine network of ISRO covers about 384 hospitals with 60 specialty hospitals connected to 306 remote or rural/district/medical college hospitals and 18 mobile telemedicine units, which ophthalmology, cardiology, radiology, diabetology, mammography, general medicine, women and child healthcare. The satellite bandwidth for telemedicine programme is provided on INSAT-3A and GSAT-12 satellites.
While ISRO provides telemedicine systems software, hardware and communication equipment as well as satellite bandwidth, state governments and the speciality hospitals have to allocate funds for their part of infrastructure, manpower and facility support. In this regard, technology development, standards and cost-effective systems have been taken in association with various state governments, NGOs, specialty hospitals and industry.
A telemedicine monitoring node has been established in the Development and Educational Communication Unit (DECU), Ahmedabad, which is used for testing and supporting users for minor troubleshooting, etc.
Earlier, the DECU had entered into enabling the authorities in ensuring medical support to the pilgrims to Amarnath temple. In July 2016 end, a team consisting of senior officials from DECU/Isro (Ahmedabad) and Directorate of Health Services (Srinagar) carried out the work to set-up the telemedicine node at Sheshnag base camp enroute Amarnath Shrine under extreme weather conditions, difficult terrains and other unexpected challenges.
The Sheshnag telemedicine node consists of a Very Small Aperture Terminal (VSAT) System, video conferencing equipment, telemedicine software along with medical diagnostic instruments like an ECG machine and X-ray scanner.
The teleconsultation for this node have been planned with the assistance of PGIMER (Chandigarh), SKIIMS (Srinagar), AIIMS (Bhopal), JIPMER (Puducherry). However, the teleconsultation can be obtained from any of the super-specialty nodes set up across the country.