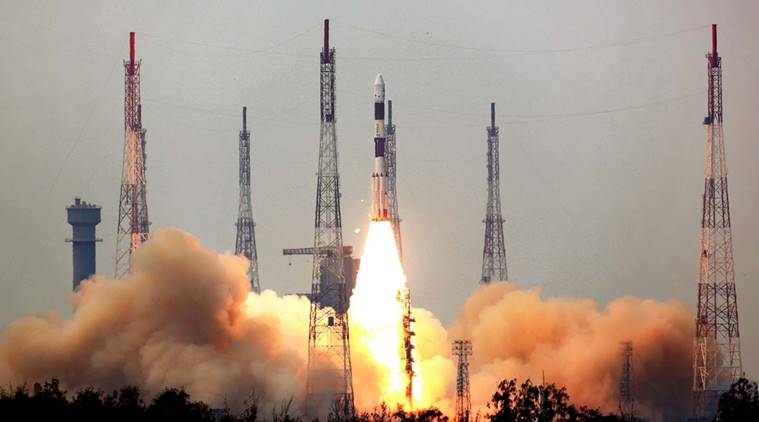 India: Indian space agency ISRO has successfully deployed its SCATSAT-1 ocean research satellite as part of an eight-satellite payload due to launch from the Satish Dhawan Space Centre early on Monday. The SCATSAT-1 spacecraft is designed to serve as a stopgap to help measure ocean winds following the failure of the OSCAT instrument aboard the OceanSat-2 satellite in February 2014.
Built in part from spares leftover from earlier missions, SCATSAT-1 is designed for five years of service, providing an overlap with the OceanSat-3 spacecraft currently scheduled for launch in 2018. The scientific payload of SCATSAT consists of Ocean Scatterometer 2, or OSCAT-2, which is an enhanced replacement for the OSCAT instrument aboard OceanSat-2.
The instrument, a pencil-beam wind scatterometer, uses radar to collect data on wind speeds and directions near to the sea surface from orbit. Operating in the Ku-band at a frequency of 13.515 gigahertz, OSCAT-2 transmits signals towards the surface of the Earth and detects backscatter resulting from these signals reaching the ocean surface. Rough seas reflect more energy than calm seas, allowing sea surface conditions to be analysed.
OceanSat-2 was India's first satellite to carry a scatterometer for sea wind research. Launched in September 2009, the satellite was approaching the end of its design life when the travelling wave tube amplifier (TWTA) in the OSCAT instrument malfunctioned, leaving the instrument unusable.
SCATSAT's OSCAT-2 instrument has been built from the same designs as OSCAT and incorporates spare TWTAs built for the earlier mission, although the digital processing system behind the instrument has been redesigned to take advantage of improvements in technology since the original instrument was constructed.
SCATSAT will be able to measure wind speeds between three and thirty metres per second (6.7-67 miles per hour), to within 1.8 m/s (4 mph). It will measure wind direction to within twenty degrees. OSCAT will rotate at a rate of 20.5 revolutions per minute, with two beams scanning the Earth's surface.