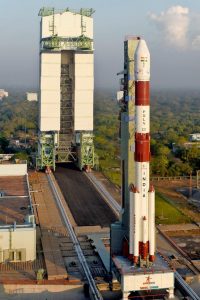 India: ISRO celebrated the World Space Week (WSW) from October 04-10, 2017 at its various centers in India. The programs under the space week were organised jointly by Vikram Sarabhai Space Centre (VSSC), Liquid Propulsion Systems Centre (LPSC), ISRO Inertial Systems Unit (IISU) and ISRO Propulsion Complex (IPRC) at Thiruvananthapuram, Kerala and Nagercoil, Tamilnadu. Satish Dhawan Space Centre (SHAR) has organised celebrations in 22 venues spanning 5 states, namely, Andhra Pradesh, Telangana, Tamilnadu, Odisha and Puducherry with a grand inauguration at Sriharikota by Hon'ble Vice President of India, Shri M Venkaiah Naidu.
World Space Week (WSW) is an international annual celebration of space science and technology. The theme of WSW-17 is "Exploring New Worlds in Space". The National Remote Sensing Centre (NRSC) along with its five Regional Centres (RC), had conducted WSW celebrations at larger scale by collaborating with the NESAC, State Remote Sensing Centres and Academia. ISRO Satellite Centre (ISAC) also celebrated the event by visiting two schools around Bengaluru.
The WSW-2017 was inaugurated by Honorable Chief Minister of Kerala, Pinarayi Vijayan, on   October 04, 2017 at Kanakakunnu Palace, Thiruvananthapuram. A Space Expo was organized at S.T. Hindu College, Nagercoil during October 5-9, 2017. The space expo showcased ISRO's achievements and contributions in space based technologies and applications. The exhibitions drew more than 1,00,000 people including students from more than 170 Government schools.
Science students were trained and deployed as communicators for the exhibition. Career guidance and interactive sessions were conducted for students with lectures on variety of space related topics like space exploration, space technologies and applications etc. Open forum attracted space enthusiasts from various walks of life and provided opportunities for active discussions. Films related to space science were also screened at the venue.
A special quiz zone was also set up exclusively for school students. The visitors could touch and feel actual engines and power heads used in ISROs work horse launch vehicles and satellites. Free bus services were provided to transport the students to the venue.