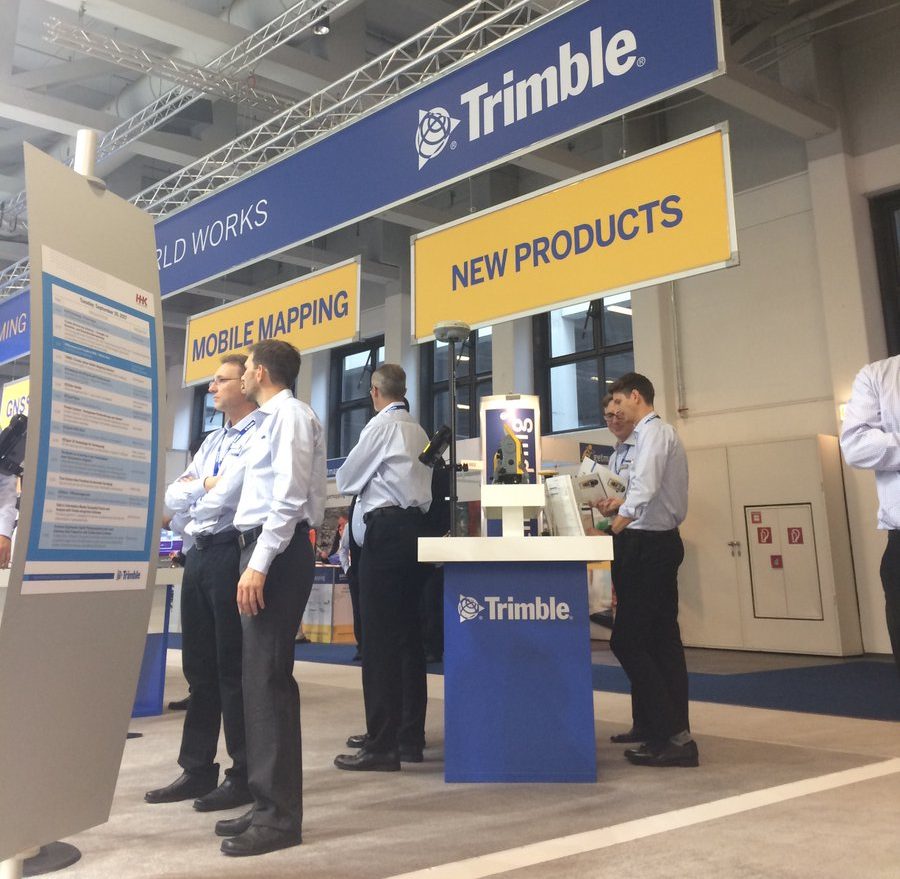 Germany: At INTERGEO today, Trimble announced a wide array of products. Given below are the seven products announced by the company.
Three new GNSS-Inertial Systems for Direct Georeferencing on UAVs introduced
Trimble introduced three new GNSS-Inertial Systems for Direct Georeferencing on Unmanned Aerial Vehicles (UAVs):  the Trimble APX-15-EI UAV, Trimble APX-18 UAV, and Trimble APX-20 UAV. Direct Georeferencing with the systems allows the location of image elements collected by Light Detection and Ranging (LiDAR) and hyperspectral sensors to be accurately computed without extensive networks of ground control points, reducing costs while maintaining accuracy to produce maps.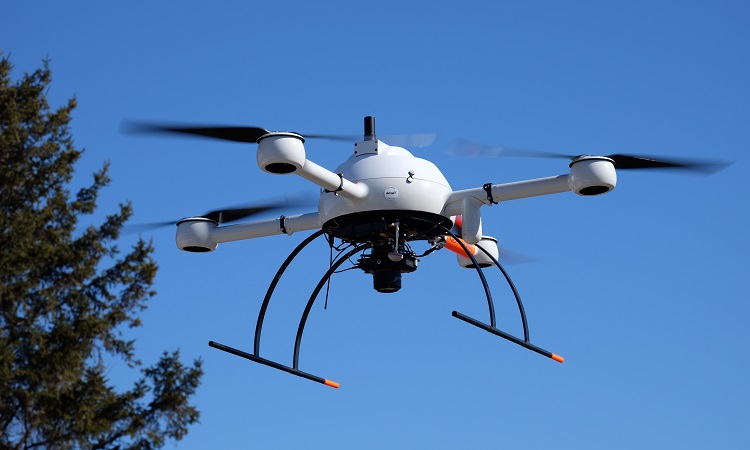 The innovative APX-15-EI UAV features dual inertial measurement units (IMU); one embedded onto the GNSS-Inertial board that is mounted on the UAV airframe with the GNSS antenna, and one that is mounted on an external sensor contained in a gimballed mount. With this feature, the APX-15-EI UAV can compute two sets of orientations — the UAV airframe and the gimballed mount — enabling automatic, precise positioning of the sensor without requiring an external interface to the gimballed mount or autopilot.
The APX-18 UAV is a single-board GNSS-Inertial solution that supports two antenna heading for the highest accuracy in low-speed multi-rotor survey applications such as building facade scanning. Measuring just 10 cm x 6 cm and weighing only 62 grams, the APX-18 UAV uses on-board inertial sensors calibrated with the Applanix SmartCal software compensation technology for superior performance in a small, compact form, ideal for UAVs.
To meet the higher accuracy demands driven by the allowance of higher altitude, Beyond Visual Line of Sight (BVLOS) UAV flights, and the introduction of higher resolution, larger format imaging sensors, Trimble has developed the APX-20 UAV. Also, featuring dual IMUs for automatic gimballed mount support, the APX-20 UAV uses a new, MEMS-based lightweight external IMU with unparalleled performance. With a total weight of less than 425 grams, the APX-20 UAV provides high performance without sacrificing flight time.
"We are very pleased to announce these new additions to our portfolio of products for Direct Georeferencing on UAVs," said Joe Hutton, Director of Inertial Technology and Airborne Products at Applanix, a Trimble Company. "We have listened to our customers and worked very hard to come up with solutions that meet their needs, both from a technical and cost perspective."
The APX products use state-of-the-art low noise, multi-frequency Trimble Maxwell GNSS technology, and track all current satellite signals including GPS L1/L2/L2C/L5 and GLONASS L1/L2, QZSS, BeiDou, IRNSS and Galileo, supporting SBAS, RTK and Trimble CenterPoint® RTX positioning modes.
All APX products include the Applanix POSPac UAV post-processing software for generation of high-accuracy carrier-phase differential GNSS-Inertial position and orientation for highest accuracy map products. POSPac UAV supports single GNSS base station processing with automatic coordinate survey using Trimble CenterPoint RTX, multi-single base station processing, and Applanix SmartBase™ Virtual Reference Station processing (optional), as well as the Trimble CenterPoint RTX post-processing trajectory generation available as a subscription.
The APX-15-EI UAV, APX-18 UAV and APX-20 UAV are expected to be available worldwide in the fourth quarter of 2017 through Applanix sales channels.
Smart Target Base Station to provide simplified map production from UAVs
The company announced the release of the Trimble GNSS Smart Target Base Station for high-accuracy mapping from UAVs.
Comprised of a survey grade, multi-frequency, multi-constellation GNSS reference station complete with a foam Ground Control Target with integrated carrying case, the Smart Target Base Station logs the raw GNSS observables required to perform centimeter level post-processed Differential GNSS positioning of UAVs, and acts as a photo-identifiable Ground Control Point (GCP) for quality control.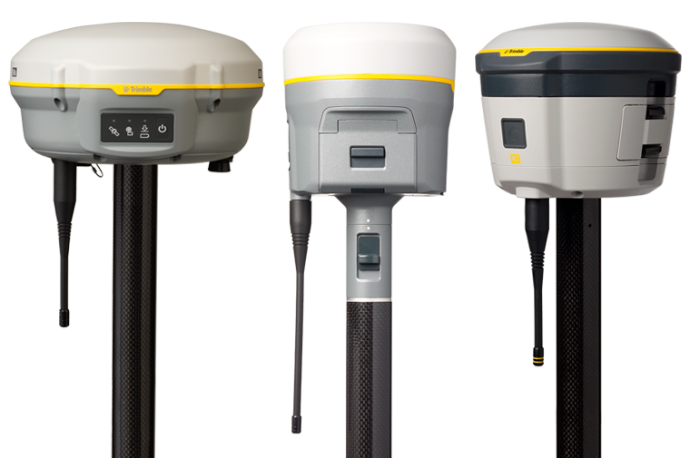 Cost effective, simple to operate, and supported by both the Applanix POSPac UAV GNSS-Inertial post-processing software for Direct Georeferencing on UAVs and Trimble UASMaster Photogrammetric software, the Smart Target Base Station makes aerial mapping from UAVs easier than ever. Simply place the foam target with its receiver in the project area, stake it down. With the included Smartphone app or web UI, users can remotely begin logging the raw GNSS observables data collected by the target that is required for post processing.
At the end of the mission, retrieve the target and download the raw GNSS data along with the data collected from the Trimble APX UAV GNSS-Inertial system installed in the UAV. Global coordinates of the reference station are computed automatically using the Trimble Centerpoint RTX post-processing service in POSPac UAV, or if local coordinates are desired, the foam target can be centered over an existing reference point.
"Efficient mapping from UAVs using cameras, LiDAR and other sensors requires the right solutions that need to be simple and easy to use," said Joe Hutton, director of Inertial Technology and Airborne Products, Applanix. "The Smart Target Base Station is a result of listening to our customers' needs for a GNSS reference station to support Direct Georeferencing on UAVs that is cost-effective, easy to deploy in all terrains, and does not require special knowledge to operate. Aerial surveyors can quickly realize greater value and significant cost savings with this system, while obtaining high accuracy."
The Trimble GNSS Smart Target Base Station operates autonomously for up to 4 hours with its embedded lithium ion battery. Extended operation can be achieved with a user supplied external USB battery.
The Trimble GNSS Smart Antenna Target Base Station is now available globally through Applanix sales channels.
Now, eCognition Suite 9.3 with powerful new geospatial data analysis capabilities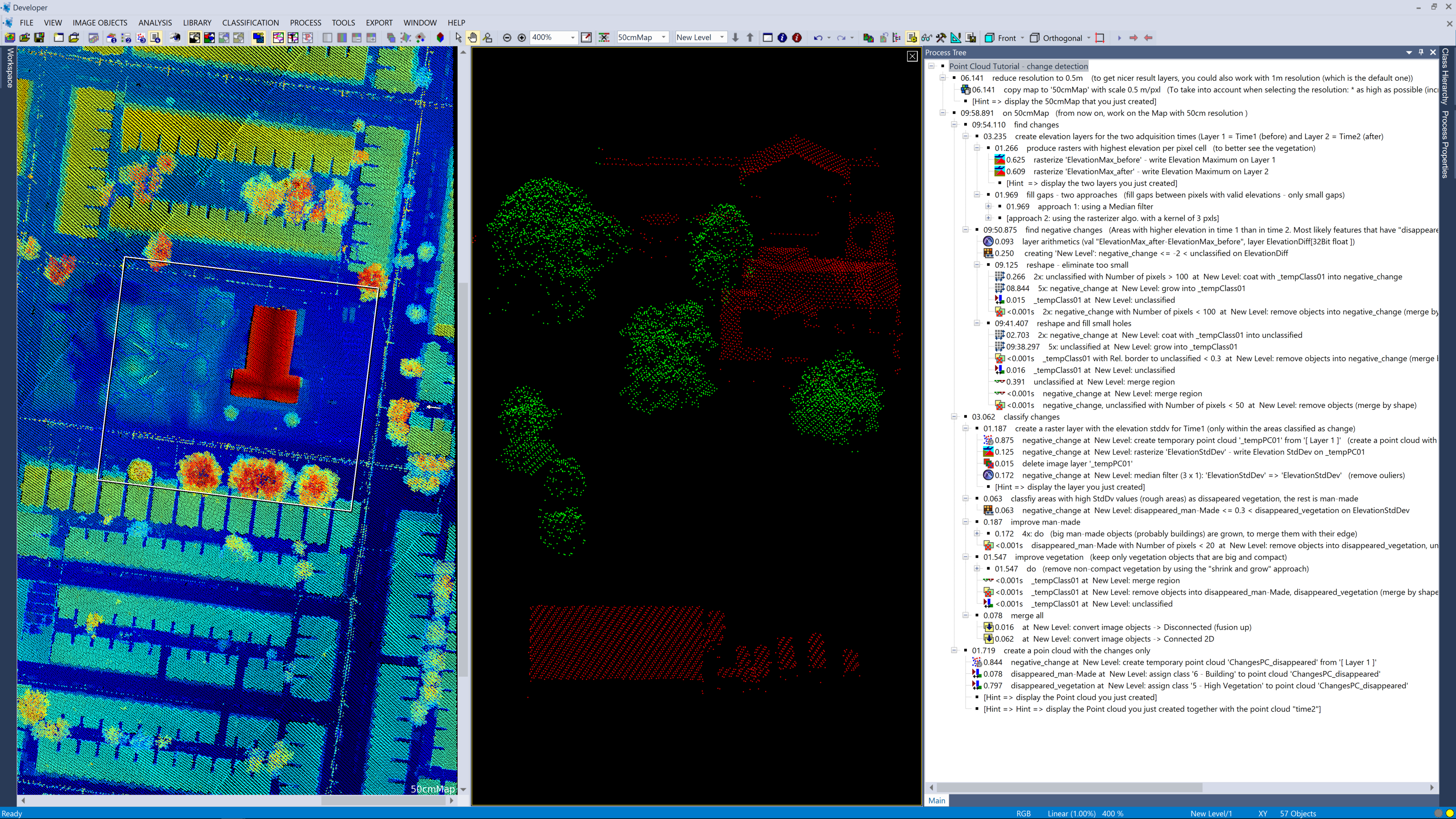 Trimble comes out with new eCognition Suite 9.3, a software platform for advanced geospatial image analysis for environmental, agriculture, forestry and infrastructure applications. Version 9.3 leverages the latest image feature extraction technology to solve challenging problems faster and more accurately for remote sensing specialists, Geographic Information System (GIS) experts, cartographers, photogrammetry and other geospatial professionals.
The eCognition software extracts accurate geo-information from remote sensing data. eCognition's intelligent information extraction capabilities accelerate mapping, change detection and object recognition by delivering standardized and reproducible image analysis results.
Trimble eCognition 9.3 adds 3D point cloud analytics and deep learning technology so customers can perform a broader range of geospatial analysis with a greater level of control. The new 3D point cloud capabilities enable users to integrate aerial and terrestrial point cloud data to perform complex 3D data classification, extract information and analyze change over time. The new version also adds automated detection of new sets of objects, including common assets found within industrial facilities, buildings and structures. By leveraging deep learning technology from the Google TensorFlow library, eCognition empowers customers with highly sophisticated pattern recognition and correlation tools that automate the classification of objects of interest for faster and more accurate results.
"eCognition's new 3D point cloud analysis broadens the range of applications and information that can be automatically extracted," said Olivier Casabianca, general manager, Trimble Geospatial. "We are excited to see customers use the new capabilities to solve challenging geospatial problems and create new applications for highly efficient extraction of actionable information from geospatial data."
The new eCognition Suite 9.3 is expected to be available through Trimble's network of global eCognition distributors in the fourth quarter of 2017. Existing customers with maintenance contracts for eCognition Developer, Server and/or Architect can update to the new version at no charge.
Expansion of field-to-finish capabilities for geospatial professionals with enhancements to software portfolio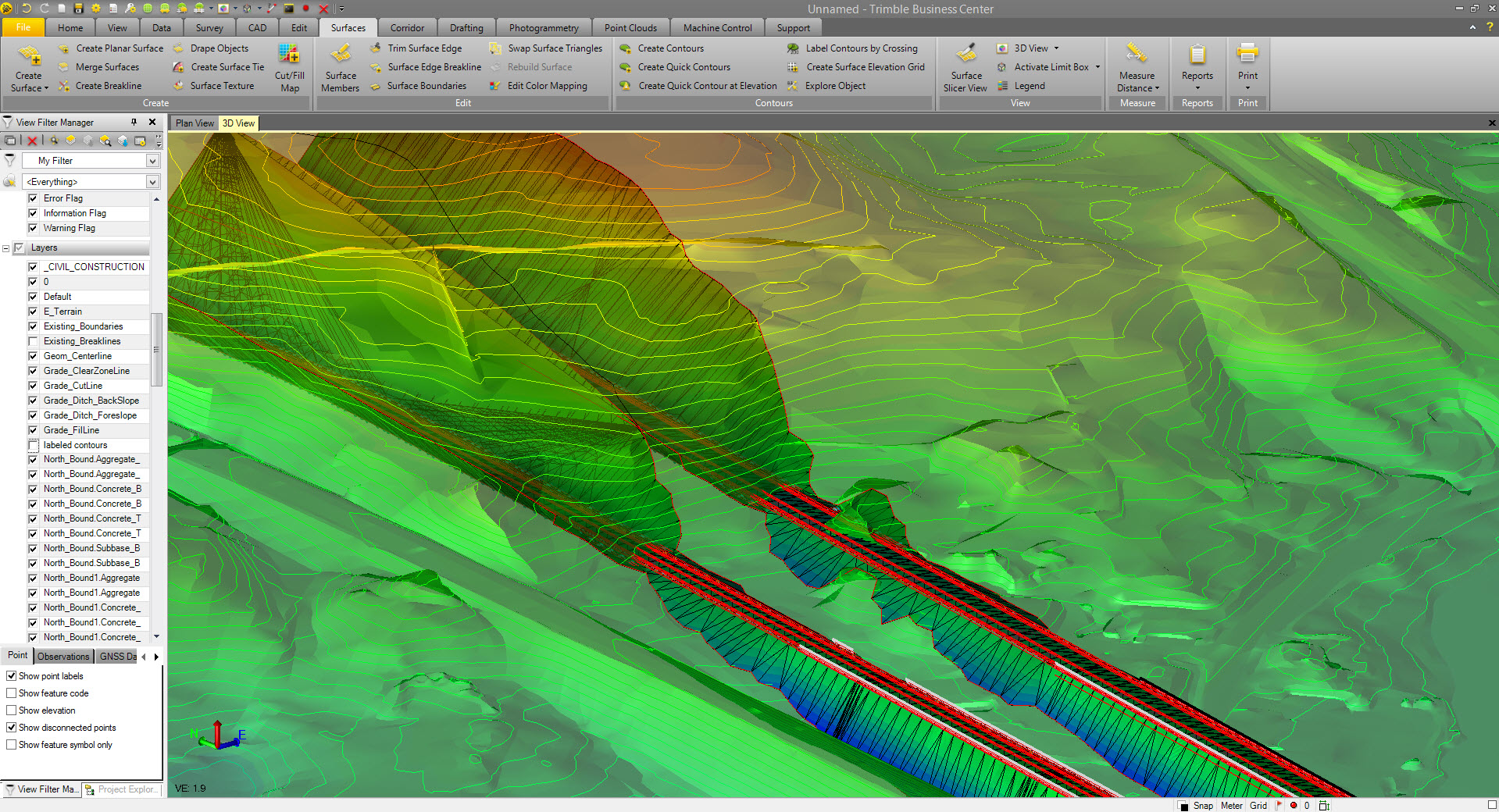 Trimble announces enhancements to its industry leading portfolio of geospatial office software with a new version of Trimble Business Center and the introduction of Trimble Clarity, a new cloud-based application that enables geospatial professionals to easily visualize and share three-dimensional point cloud data with clients. The new software versions expand the field-to-finish workflows for survey and mapping professionals, providing a complete solution for the delivery of high-quality geospatial information to clients.
Trimble Business Center 4.0 – complete survey CAD software from field to finish
Trimble Business Center version 4.0 introduced new capabilities to process high-accuracy GNSS data with confidence, create CAD deliverables and leverage full data traceability throughout the project lifecycle. Surveyors can obtain greater field flexibility without compromising quality via the addition of a new GNSS processing engine that increases solution reliability for baselines exceeding several hundred kilometers/miles.
Version 4.0 also extends the survey CAD capabilities including text editing, ortho drafting and coordinate geometry (COGO) tools that provide a comprehensive set of tools for rapidly producing end-client deliverables. A new History Log feature captures all data changes throughout the project, from GNSS processing to CAD deliverable, providing greater workflow transparency, data traceability and ultimate confidence.
Introducing Trimble clarity – share and collaborate with ease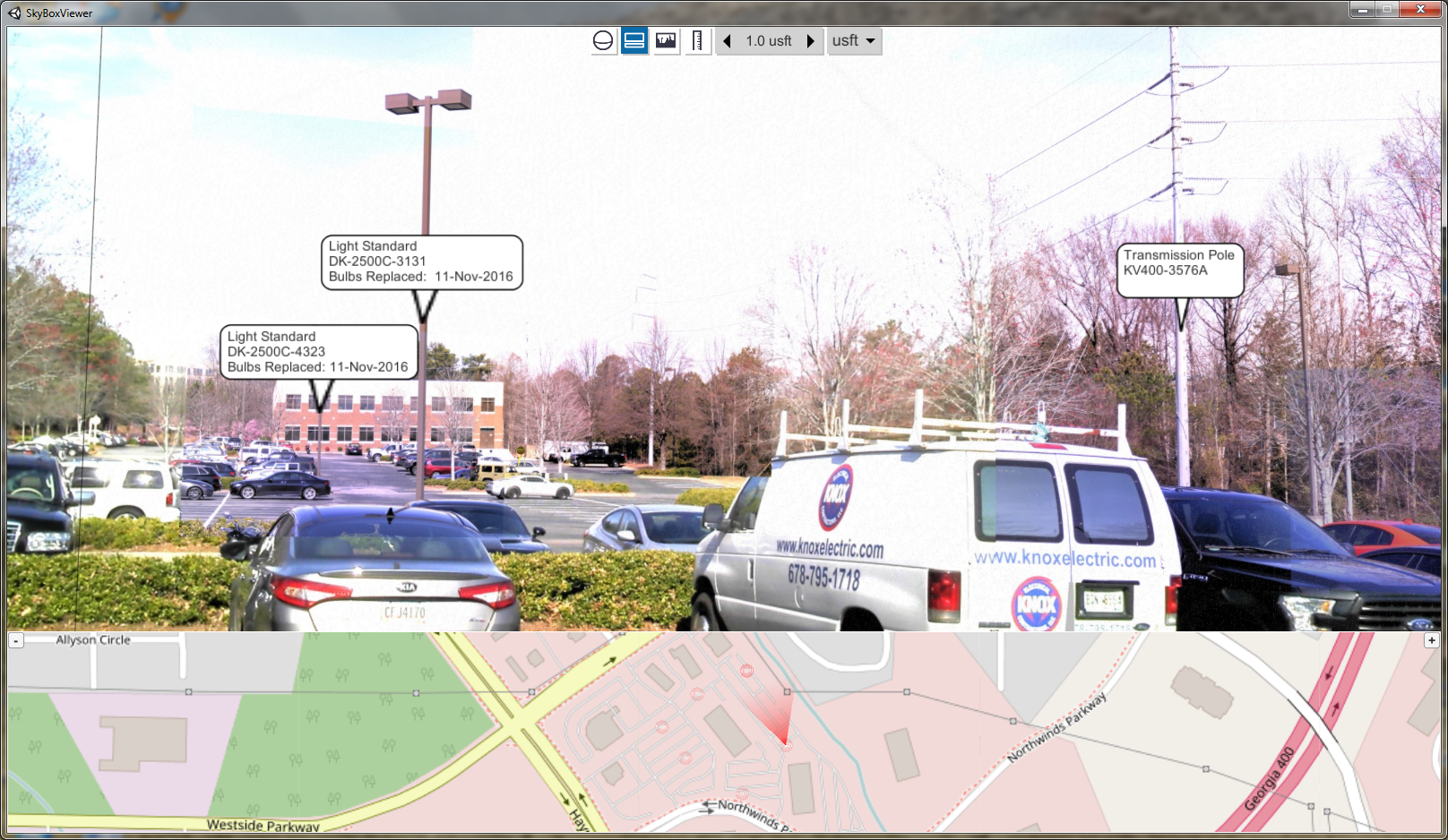 Trimble Clarity is a new cloud-based application within the Trimble Connect collaboration platform that enables industry professionals such as land surveyors, civil engineers, land developers and site managers to intuitively view spatial scenes. Users can perform 3D measurements, annotate objects and quickly collaborate with project stakeholders. Multidiscipline teams now have access to a single source of geospatial data that enables more accurate and informed decisions, increases productivity, minimizes rework and reduces project delays. Trimble Clarity reduces the time required for large file transfers and eliminates the need for specialized software knowledge to get value from laser scanning deliverables.
"Our customers are always looking for ways to improve project delivery and enhance the use and value of rich geospatial datasets," said Olivier Casabianca, general manager of Trimble Geospatial. "Trimble Clarity makes workflows more efficient and accessible to clients so they can understand the rich, contextual field data and make informed decisions."
Trimble Business Center version 4.0 also includes direct integration with Trimble Clarity, enabling users to publish 3D point cloud and imaging deliverables captured with the Trimble SX10 Scanning Total Station or other Trimble VISION™ instruments directly to their clients.
Trimble Business Center version 4.0 and Trimble Clarity are available now through Trimble distribution channels.
T10 tablet for geospatial field applications introduced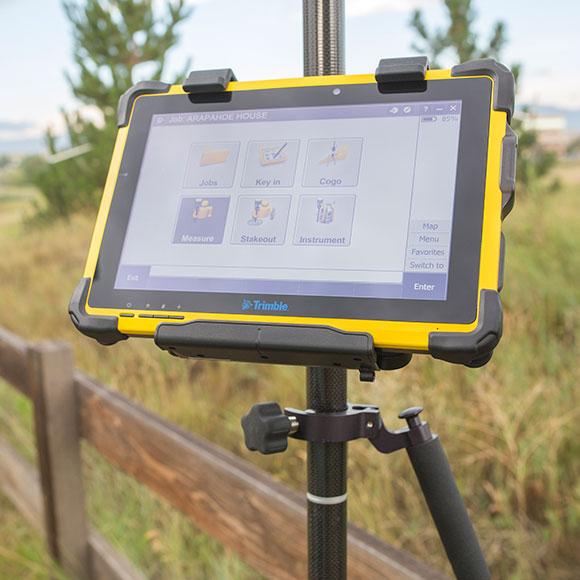 Trimble's  T10 tablet is introduced, a rugged, high-performance data processing platform suitable for a variety of survey and Geographic Information System (GIS) applications. The Trimble T10 provides the processing power of a laptop computer in tablet form, enhancing efficiencies for geospatial users in the field.
The T10 tablet is an ideal platform for large data sets such as point clouds, images, maps and other complex or processor-intensive data. The T10 is based on Windows 10, features a powerful Intel 6th Generation Core i7 processor and can run commercially available field and office applications. Features include:
10.1-inch sunlight readable display to enable better data visualization and analysis
IP-65 ruggedized professional platform that meets MIL-STD-810 specifications for shock, drop, and vibration resistance
Built-in GNSS receiver to provide real-time accuracy
Integrated wireless connectivity options, including Wi-Fi and 4G LTE, as well as Cirronet radio to control the Trimble S Series total stations and the Trimble SX10 scanning total station
"The Trimble T10 tablet gives survey and GIS professionals a single-device solution for powerful, efficient data collection and processing in the field," said Jason Rossback, marketing director for Trimble Geospatial field solutions. "Previously, these professionals may have relied on a laptop computer in addition to a survey controller or data collector. With the T10's robust processing power, users can collect and process their data running a broad range of applications, eliminating the need for a separate laptop computer and speeding the time-to-results by enabling deliverables to be produced while out on the job."
For a complete field-to-office workflow solution, users can run Trimble software including Trimble Access field software, Trimble TerraFlex™ mobile software and Trimble Business Center office software to process and manage their data.
The Trimble T10 tablet comes with Windows 10 Enterprise operating system. The standard or enhanced capacity Li-Ion batteries are hot-swappable to ensure more time in the field. It is available in three models:
Wi-Fi only
Wi-Fi and 4G LTE cellular
Wi-Fi, 4G LTE cellular and Cirronet radio
All models support GPS, GLONASS, and BeiDou satellite constellations as well as Satellite-Based Augmentation System (SBAS) capabilities to leverage improved real-time accuracy.
The Trimble T10 tablet is expected to be available through Trimble's Geospatial distribution channel in the fourth quarter of 2017.
Optical portfolio to enhance with the next-generation mechanical total stations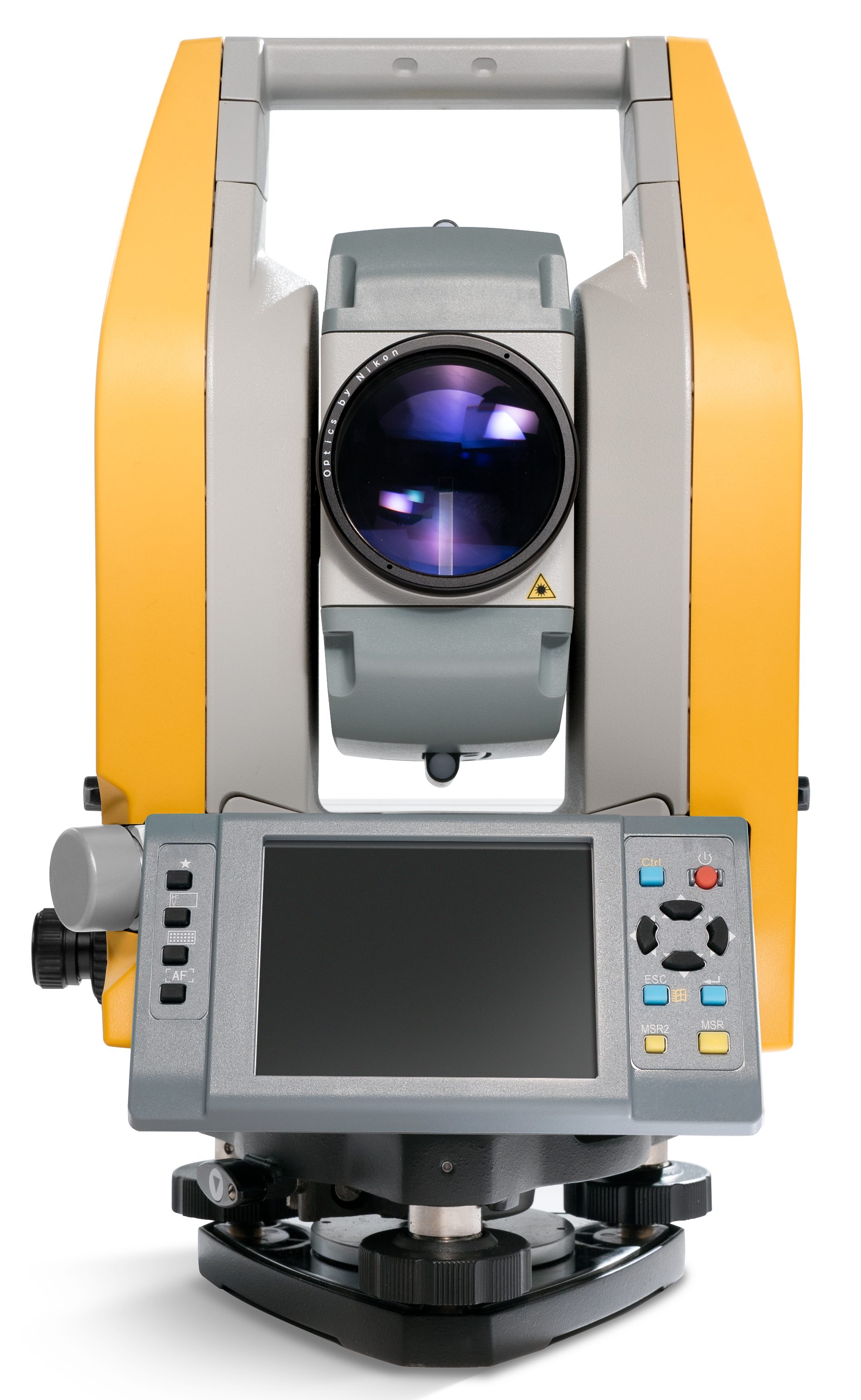 Trimble announces the release of the Trimble C5 and Trimble C3, the next generation of mechanical total stations to support land survey professionals with their cadastral survey, topographic survey and stakeout needs. The new Trimble C-Series mechanical total stations enhance the Trimble portfolio with new productivity boosting features that make everyday field work easier and faster.
The Trimble C5 and Trimble C3 mechanical total stations come standard with autofocus technology. With premium-quality Nikon optics, the new C-Series reduces time in the field with improved measuring speed and the longest electronic distance measuring (EDM) range of any Trimble conventional instrument. Users can also protect their investment with the optional Trimble L2P (Locate2Protect) for asset security to locate lost, stolen or missing equipment as well as the optional Trimble AllTrak location technology for asset management to track and manage jobsite tools.
"For many of our customers, mechanical total stations are indispensable tools for managing the daily workload," said Ron Bisio, vice president of Trimble Geospatial. "Our continued innovation in this category underscores our commitment to all types of surveying customers and a wide variety of applications."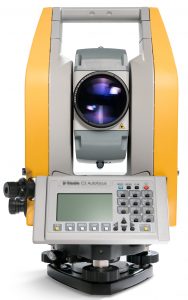 The new C-Series total stations integrate seamlessly with Trimble's industry-leading field and office software. With Trimble Access software, users can harness the full potential of the C-Series through intuitive, step-by-step data collection in the field. The C5 includes Trimble Access software on board. The C3 provides an option to operate the instrument with either its on-board software or Trimble Access on a handheld controller such as the Trimble TSC3.
In the office, Trimble Business Center enables users to quickly plan and generate customer deliverables. With a variety of modules to streamline work in both the field and the office, users are able to meet a wide range of surveying challenges with Trimble C-series total stations.
The Trimble C-Series of mechanical total stations is expected to be available from Trimble's global distribution network during the fourth quarter of 2017. Standard total station accessories are also available.
Inertial-based trolley solution added to its track survey and scanning rail portfolio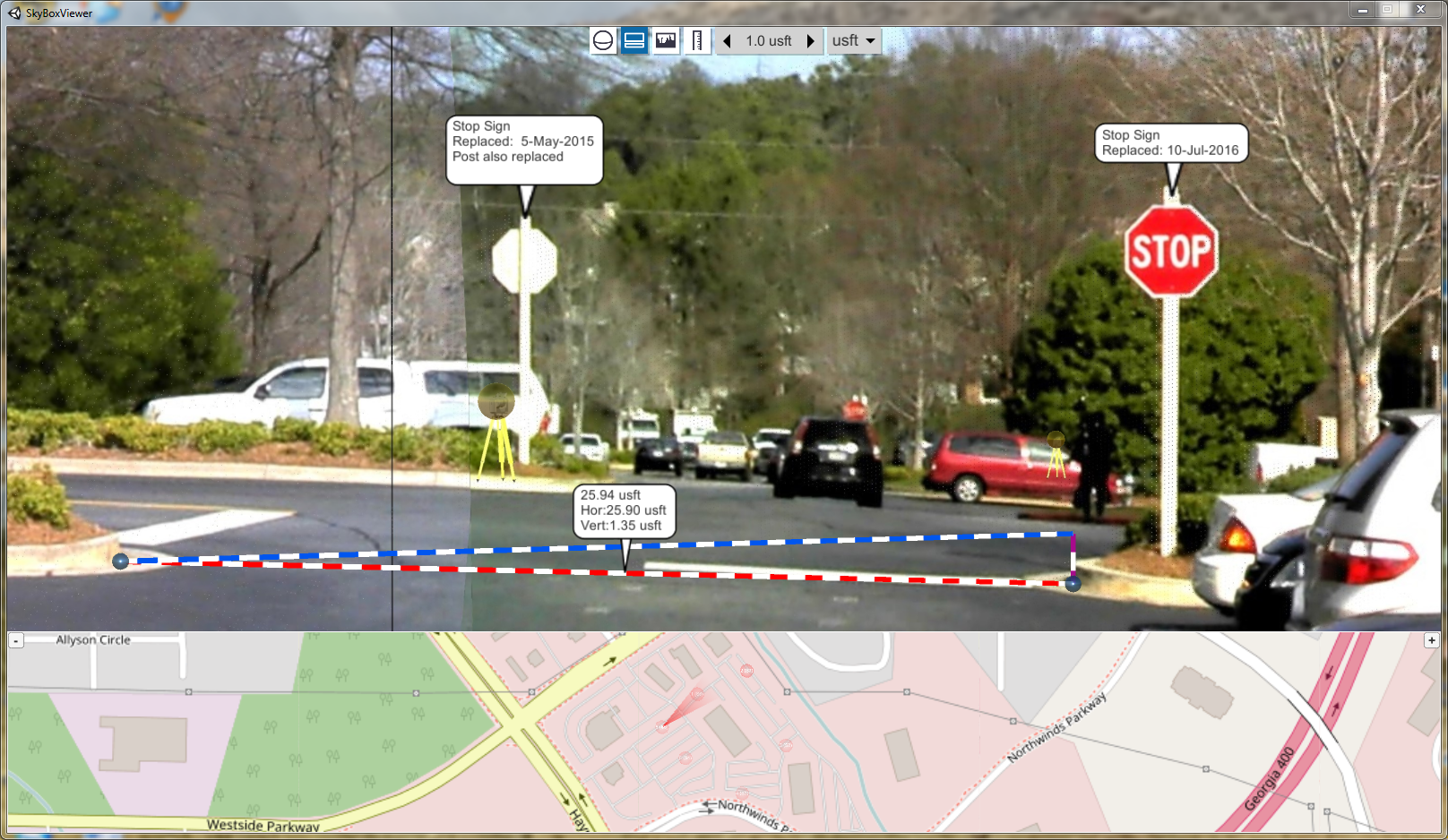 Trimble introduces a new addition to its track survey and scanning rail portfolio—the Trimble GEDO IMS System. The latest trolley system is lightweight, flexible and fast. It combines an Inertial Measurement Unit (IMU) with scanning and geodetic sensors for surveying railway lines and documenting assets along the track.
The announcement was made today at INTERGEO 2017, the world's largest conference on geodesy, geoinformatics and land management.
The GEDO IMS System provides highly accurate as-built survey documentation of the track and 3D point clouds for asset data collection along the track. The trolley system's lightweight design is ideal for single-crew operation and on projects near active railway lines. GEDO IMS Field Software and the GEDO Office Software Suite enable smooth data flow between the field and the office. GEDO Scan Office provides enhanced processing for asset data collection and clearance applications.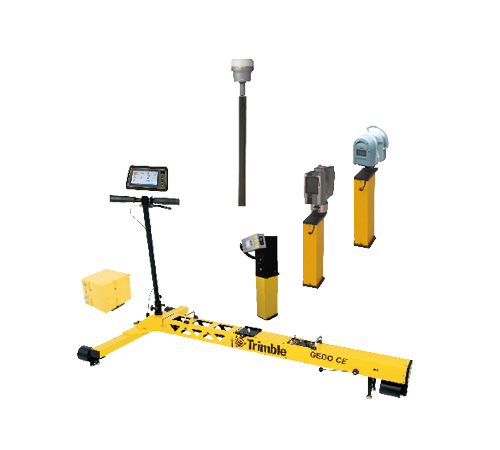 "Trimble continues to expand its portfolio of track survey and scanning solutions. We initially introduced the GEDO Scan System for clearance applications to improve safety," said Andreas Sinning, director of marketing for Trimble Geospatial's GEDO track surveying and scanning solutions. "Now, with the introduction of the latest system for track survey and trolley-based mobile mapping data collection, the GEDO System can deliver a wider range of applications to enable users to increase productivity while minimizing track occupation."
The basic Trimble GEDO IMS System consists of the Trimble GEDO CE 2.0 Trolley System, Trimble GEDO IMU Unit, Trimble Tablet PC and the Trimble GEDO IMS Field and GEDO Office Software. For mapping applications it can be combined with the Trimble TX6 and TX8 laser scanners.
The new GEDO IMS System is expected to be available in the fourth quarter of 2017.