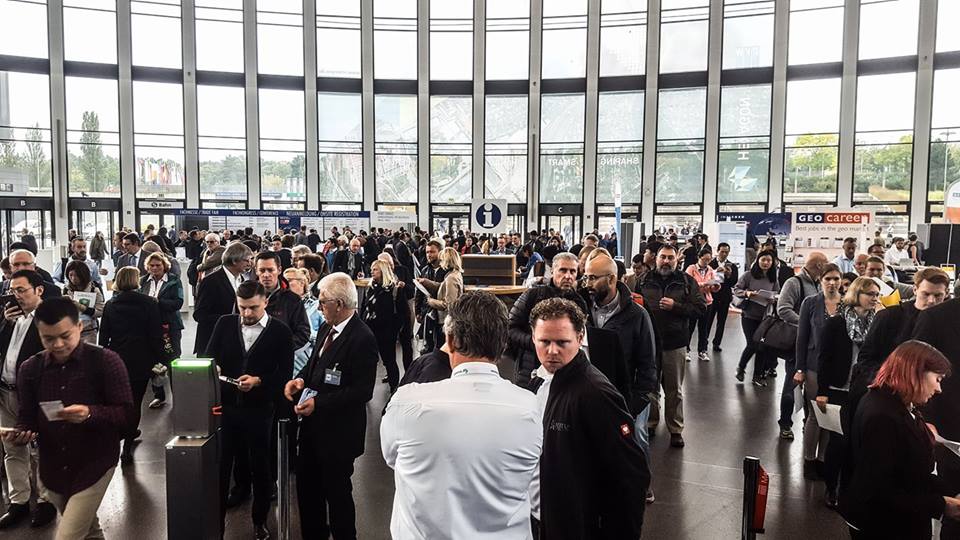 Germany: Digitalization is rapidly changing things we have long been familiar with and revolutionizing how we look at our environment and the way it is planned. This was the thrust of the address given by Professor Hansjörg Kutterer, President of event host DVW, at the traditional opening ceremony for the INTERGEO trade fair and conference for geodesy, geoinformation and land management, held the evening before the event. Speaking in the Berlin State Library, Kutterer painted a picture of an industry of pioneers and geodesy 4.0 that will be able to use digital methods to adapt to the growing and changing requirements of the future in a customer-friendly way. If you want to keep up to speed, then a visit to INTERGEO in Germany's capital city is an absolute must.
INTERGEO 2017 – the geo-event of the year
INTERGEO 2017 perfectly reflects the digital transformation of an entire IT segment. With 580 exhibitors, exhibition space covering more than 32,000 square meters, and visitor numbers from more than 100 countries expected to exceed 17,000, INTERGEO 2017 is set to be the geo-event of the year. This year, INTERGEO's specialist conference and trade fair are brimming with innovation highlights, product trends, talking points and information from throughout the fields of geodesy and geoinformation.
Geodesy 4.0 – INTERGEO shows what it's made of
By grasping digitalization as its core issue, the industry has made some sci-fi fantasies of the 1980s and 90s seem like old hat. During the traditional opening ceremony the evening before INTERGEO, DVW President Prof. Hansjörg Kutterer painted a picture for the roughly 150 invited guests gathered in the Berlin State Library of the rapid changes that geodesy and its players are currently tackling. Technologies that deal with big data, smart data and their personalized equivalent, "personal data", are increasingly pushing the boundaries of what's possible. Augmented and virtual reality applications are playing a growing role in many planning processes.
At the heart of INTERGEO 2017 in Berlin are developments that go hand in hand with digitalization, universal networking and the new-look job profile of geodesists. According to Kutterer, building information modelling, smart cities and eGovernment are core issues that are revolutionizing entire areas of our lives and work.
UAVs and smart cities as exhibitor magnets
As was the case last year, INTERGEO includes the themed platforms INTERAERIAL SOLUTIONS and SMART CITY SOLUTIONS. Drones are now well-established as highly flexible all-round tools. Whether they are used for mapping, planning, or monitoring the environment, constructions sites, open-cast mines or agricultural areas, the technology is booming. And the great and the good of this young, flourishing sector will be on show at INTERAERIAL SOLUTIONS in Berlin. The digital city is also increasingly taking shape. After last year's rather more modest SMART CITY SOLUTIONS, this year sees more than 100 companies showcasing their solutions for sustainable, pleasant and future-proof city living.
Conference focuses on social issues
The three-day conference program is packed with top-notch input by speakers drawn from Germany and all over the world. The conference blocks closely mirror the massive challenges facing society both now and in the future. By covering mobility, energy, town and country planning, demographic change, building information modelling methods and the vital advances made by the European COPERNICUS environmental monitoring program, the conference is breathing new life into INTERGEO's motto of "Knowledge and action for planet Earth".
Politics, business and science in Berlin
As DVW President Professor Kutterer explains, "INTERGEO has established itself as a platform and networking event that is attractive for exhibitors and visitors from all over the world. This year's venue of Berlin underlines the close ties that bind geodesy, geoinformation and land management with key political issues and the scientific and business communities. We are looking forward to three days of exciting presentations, stimulating discussions and plenty of new impetus for our visitors. The city of Berlin itself is always worth a visit, and the added extra of INTERGEO 2017 makes it an absolute must for industry visitors. The destination is set – let your satnavs do the rest."