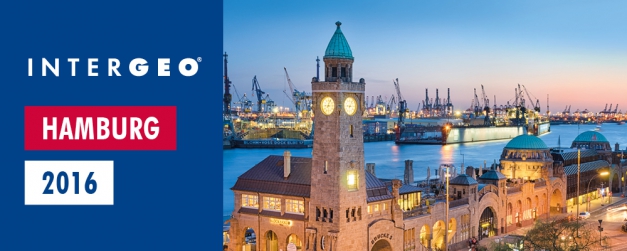 Germany: The mecca of all geospatial-related activities, INTERGEO 2016 culminated in Hamburg on Thursday. The event featured geospatial industry players across the world. The focus for this year's edition was strong on Smart Cities, BIM, and Digitalization.
The industry players created and supplied smart geoinformation and services and position themselves firmly at the interface with industry and administration. The three-day event featured 531 exhibitors from 37 countries, 1,300 delegates, and 17,000 trade visitors from across 100 countries.
The Geospatial sector's dynamic momentum was keenly evident in packed exhibitions halls and conference rooms, the young, international audience and three days full of information and discussion.
"INTERGEO is where the geo IT sector meets its users. INTERGEO is cross-industry dialogue at its very best. It focuses on the resource of the future – smart geoinformation," says Prof. Hansjörg Kutterer, the newly elected President of INTERGEO's host organisation, the DVW.
Trade fair exhibitors from all over the world have been showcasing their product innovations and intelligent solutions and services at INTERGEO – covering the entire process chain from data collection and analysis through to presenting and displaying results. INTERGEO was the highlight event of the year for manufacturers and service providers of GNSS surveying, mobile mapping, laser scanning and surveying, and inspection and monitoring with drones/UAS.
Keynote speaker Nigel Clifford, Chief Executive of British Ordnance Survey, used the case study of Manchester to show how geoinformation in the Internet of Things (IoT) will shape our urban surroundings. Ron Bisio, Vice President Geospatial at Trimble, crafted smart cities scenarios in his own keynote speech.
As far as BIM is concerned, the technology transfers the processes involved in planning, constructing and operating structures and infrastructure into the digital world. Everyone who took part agreed that the geoinformation that geodesists provide at the outset makes them crucial to BIM processes.