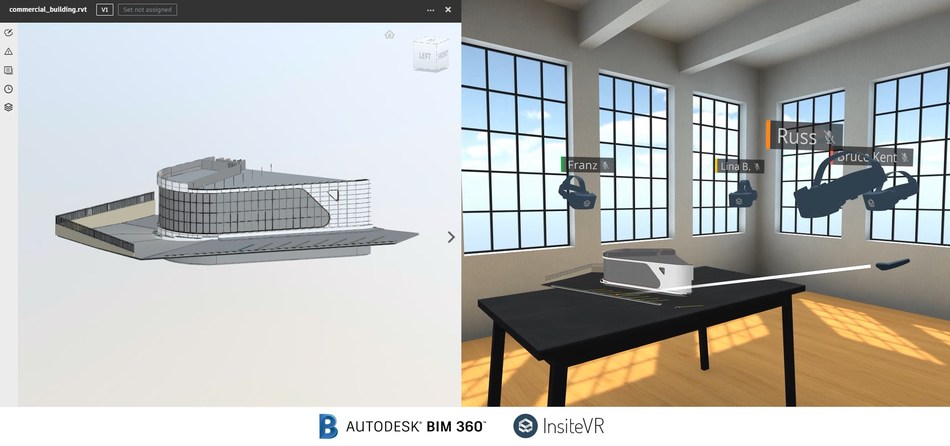 USA: InsiteVR, an immersive communication software for architecture, engineering and construction, has launched an integration with Autodesk's BIM 360 construction management platform.Available now, the integration is the first commercially available solution that allows Autodesk's BIM 360 customers to host virtual reality meetings for coordination and design review using BIM 360 data. Engineering and construction teams can use VR to review projects without exporting or sending files to each other. InsiteVR will automatically have the latest version of their BIM 360 data ready for a VR meeting.
With BIM 360 and InsiteVR, teams can use VR to evaluate coordination issues, review complex systems, find visual clashes, and improve communication across team members and disciplines.
"BIM 360 is making sure everyone on a project has access to the right data. InsiteVR expands on that by making sure that 3D data can be efficiently discussed across disciplines throughout the project life cycle," says Russell Varriale, COO of InsiteVR.
InsiteVR's immersive meeting software allows multiple users to review and interact with 3D model data using VR headsets. Meetings can be joined from the Oculus Go, Oculus Rift, HTC Vive, Windows Mixed Reality, and normal desktops.
The integration also provides syncing of speech-to-text annotations to BIM 360 issues. InsiteVR transcribes a user's voice to annotate elements in the model that need attention. Those annotations become BIM 360 issues that can be easily addressed by project members.
Angel Say, CEO of InsiteVR, says, "Screen sharing complex 3D models should be considered a risk because of the miscommunication that can happen. We are excited to deliver an immersive communication layer on top of BIM 360 that will improve teams' confidence in delivering a project on time and on budget."