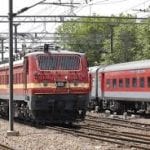 India: Indian Space Research Organisation, ISRO has started working with Indian Railways to track trains and automatically feed the control charts about the train's arrival and departure.
"A new beginning has been made in the new year: the train movement information is acquired and fed to the control charts using ISRO (Indian Space Research Organisation) satellite-based real-time train information system (RTIS) automatically," a senior railway ministry official stated.
The official said that the system was implemented on January 8, on some of the mail or express trains on the Shri Mata Vaishno Devi Katra-Bandra Terminus, New Delhi-Patna, New Delhi-Amritsar, and Delhi-Jammu routes.
He further said that the new system will help railways to modernize its control room, railway network for more efficient train movement across its network.
 After the collaborative effort of ISRO and Indian Railways, a satellite-based system will also help railways in mapping the area as well as it will come in handy at the time of accidents when it can be used to ascertain the exact location of trains and topography.