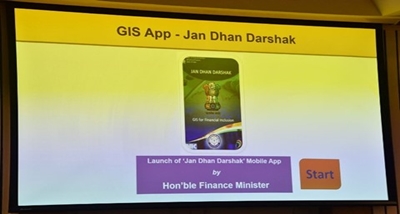 India: Indian Finance Minister Arun Jaitley launched Jan Dhan Darshak GIS-based Mobile App for Financial Inclusion on 25th September 2018 during Annual Public Sector Banks meeting. This App will assist to the common people in finding a financial service touch point at any location in the country.
Department of Financial Services (DFS), Ministry of Finance and National Informatics Centre  (NIC) have jointly developed the app Jan Dhan Darshak as a part of financial inclusion initiative.
Jan Dhan Darshak app will be in a unique position to provide a citizen-centric platform for locating financial service touch points across all providers such as banks and post office.
Arun Jaitley, Minister of Finance and Corporate Affairs, India, said "We had announced recently that we need a banking touch point at all places where the distance of the touch point  from any citizen  should not more than 5 km from either the brick and mortar branches,  banking correspondents, ATMs or  Post offices and we are working in that direction. The GIS mapping which is being launched today will a  very convenient method for any person who aspires to be in touch with the bank to find out about which is the nearest point and therefore conduct his banking activity with that. The initiative is also in the geographical spread and also inequitable spread itself will go a long way (in achieving the goal of financial inclusion in the geographical sense)"