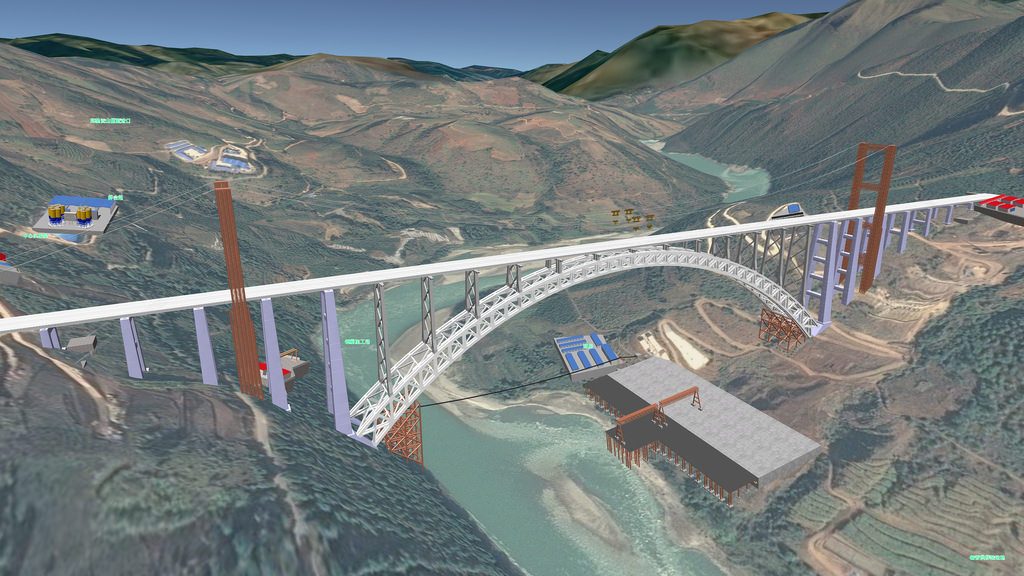 China: The Dali to Ruili railway is a single-track passenger and freight railway being constructed at a total cost of CNY 25.7 billion in the Yunnan province of Southwest China. The China Railway Eryuan Engineering Group Co., Ltd., established as a subsidiary to China Railway Group Limited in 1952, is responsible for design and 3D modeling of the 330-kilometer project.
Using Bentley's BIM technology, the design team greatly improved design efficiency and shortened the design time by 1,000 hours. Moreover, using this technology provided the foundation for future 3D design and digitalization of the Chinese railway.
The line, which forms the western route of China's rail link with Southeast Asia and is part of the Trans-Asian Railway, includes the Nujiang Bridge and Gaoligong Mountain Tunnel, which after completion will represent the world's longest span for a railway arch bridge and longest railway tunnel in Asia. Facing collaboration and coordination challenges among disciplines with its existing technology, the project group conducted extensive research and development of all available software and chose to adopt Bentley's technology to achieve the following outcomes:
Complex route investigation and definition for the Gaoligong Mountain Tunnel
Transfer via IFC to achieve standardized Chinese Railway components
Improved modeling efficiency for geology, tunnels, and bridges
Efficient control of design changes including the Gaoligong Mountain Tunnel
Transfer of the 3D BIM design model to construction management
Responsible for the implementation of BIM advancements on the project, China Railway Eryuan Engineering Group Co., Ltd. used Bentley's comprehensive modeling and common data environments to manage all the information required by Chinese Railway standards and deliver effective and efficient collaboration for all the disciplines and users involved.
"By using the Bentley platform, the 3D collaborative design of the whole project was completed efficiently and rapidly, which brought hope and confidence for our future intelligent railway construction." said Fengxiang Dong, Director of BIM Center, China Railway Eryuan Engineering Group Co., Ltd.