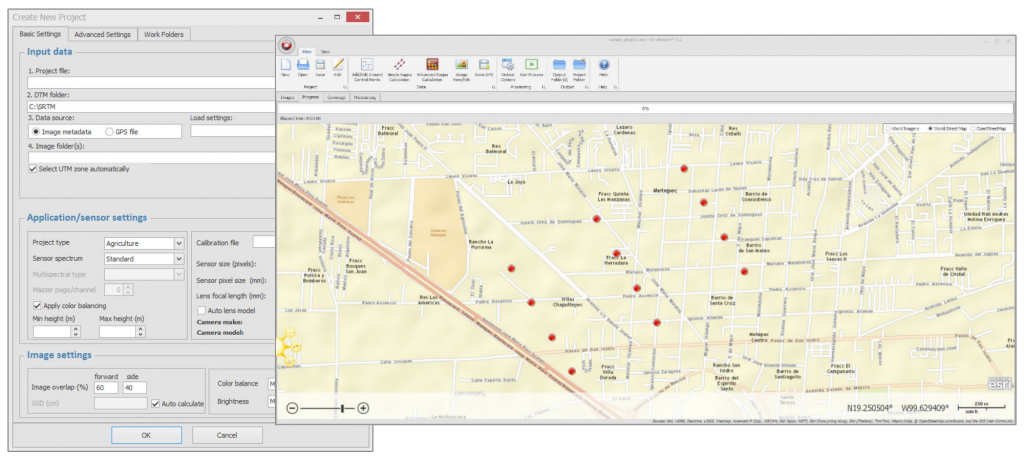 US: Aerial imaging software provider, Icaros has released an upgraded version 4.2.2 of its UAS image processing software, OneButton. The software is developed for geospatial end users to easily and automatically generate precise, fully orthorectified 2D maps and 3D models from frame-based aerial imaging systems.
Originally engineered for manned aircraft sensors, the OneButton software has been modified to accommodate the unique collection conditions of unmanned aerial systems (UAS). The new version creates a complete image processing workflow for aerial image data and can front-end both GIS and analytics workflows to enable customers to solve challenging problems related to everything from agriculture and forestry to utilities and city planning.
"This version of OneButton comes with significant improvements, from a more intuitive user interface, to more robust processing and output options.  I am very pleased with the update.  Excellent work guys!" said Eric Andelin, President of VERTX.
OneButton automatically processes raw raster imagery with onboard GPS/IMU data to stich the individual scenes together into a seamless, color-balanced orthomosaic meeting photogrammetric standards. Outputs include digital elevation models (DEMs), true color 3D point clouds, and multispectral mosaics – all ready for ingest directly into GIS and analytics software environments.
OneButton is application platform and sensor agnostic, and processes raster image data from small-, medium-, and large-format frame sensors capable of capturing visible RBG, multispectral, near-infrared, and thermal infrared data.
The new version contains features and improvements like the new flight planning software module with additional parameters to create enhanced quality output products. It allows users to create their own parameter templates to run similar projects repeatedly with the same parameter set. UgCS flight planning software is included free of charge with each installation.
Users, who are currently using OneButton, can download and install its latest version from the following link: https://www.icaros.us/ob-software.