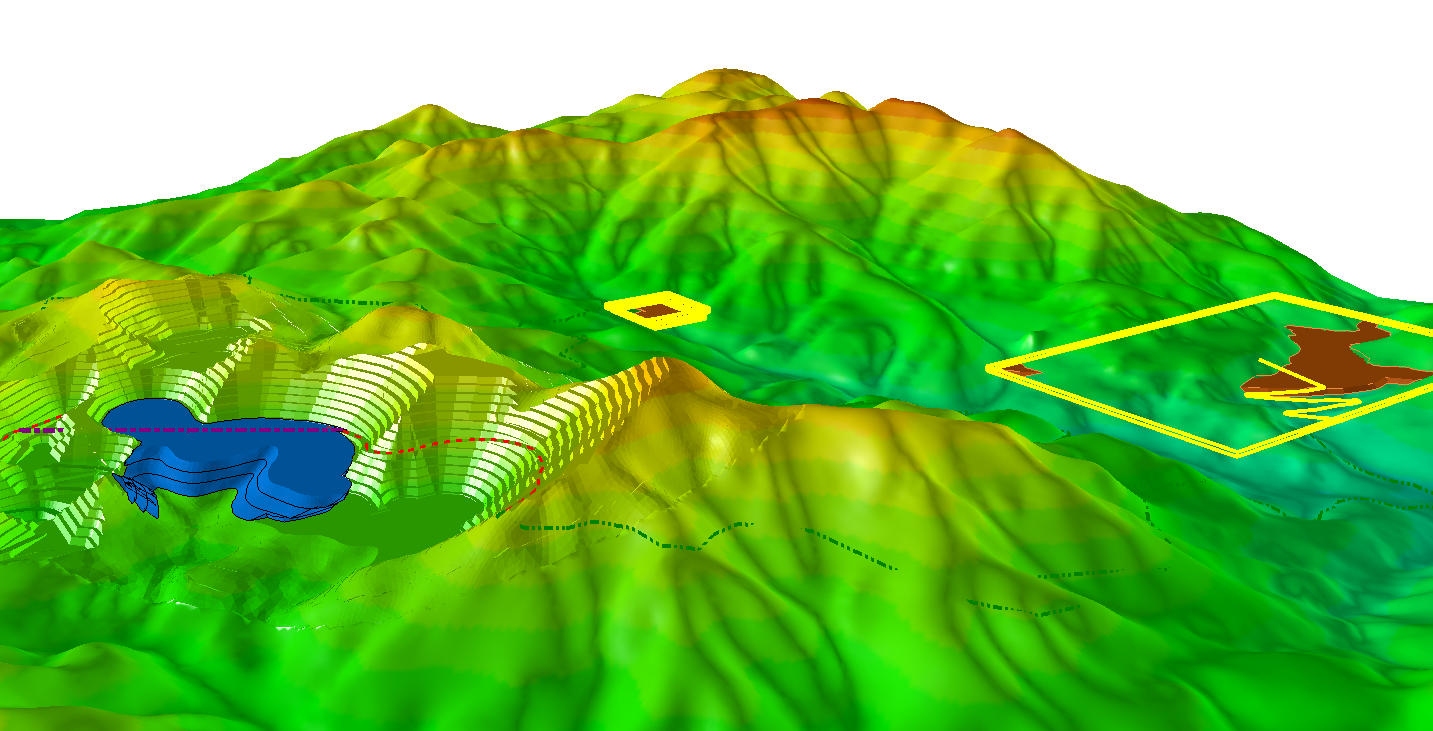 Sweden: Hexagon introduces HxGN Dynamic Haulage for optimized truck movement. As part of the MineSight Schedule Optimizer (MSSO) platform, Dynamic Haulage ensures the best, most efficient path to destinations, regardless of changes in haul roads and routes between operational phases and between schedule runs. It's the closest thing to real-time "best path" from cut-to-mill or dump and back again, according to the company.
For mines where benches and routes are changing constantly during production, Dynamic Haulage allows equipment operators to locate an optimal route with schedulers. Dispatch can better see the entire mine and traffic flows.
Haul route connections are dynamically built between the pit phases being mined, reflecting changes in the surface as the schedule progresses. The outcome is a schedule that more accurately represents the equipment requirements of the operation without the need to digitize appropriate connections. Scheduled cycles are more efficient and "plan versus reality" gaps are closed without distractions of radioing or visual assessment of clear haulage routes to the destination.
Dynamic Haulage appeals to large pit operations with significant fleet equipment assets. It also works well for small (Tier 3 and Tier 4) mines where mill energy expenses and capacity utilization are critical and must be maintained throughout phases and shift periods, without resource material delivery delays and slowdowns to re-digitize road center-lines.
"Dynamic Haulage is a highly affordable solution with minimal licensing investment and an incredibly short payback milestone," says Project Manager Carl Brackpool. "It's an effective solution for customers looking at flexible schedules supporting multiple potential haul routes and scenarios, especially when short-term planning synchronizations don't fit.
The solution's benefits include:
Haul route connections are dynamically built between pit phases being mined, according to changes in the surface indicated by the progress of the schedule
Schedule more accurately represents the operation's equipment requirements, without the need to digitize the appropriate connections
Improves accuracy and confidence of equipment requirements estimated for daily schedules, replacing most reasonable assumptions from original planning
Hexagon Mining has solved surface and underground challenges by integrating the world's best measurement solutions with proven technologies for planning, operations, and safety. The company brings surveying, design, fleet management, production optimization, and collision avoidance together in a life-of-mine solution that connects people and processes.
The company's JPS (Jigsaw Positioning System) is described as a ground-based, augmented GNSS and Locata high-precision positioning solution. It is the world's first radio-location technology to replicate a completely accurate positioning network system, which augments GNSS satellites with a ground-based positioning network, according to Hexagon Mining. Created in partnership with Locata Corporation, JPS is designed to provide the same positioning accuracy of GNSS, but without the signal drop-out.
Using a combination of fixed-position and movable JPS, (LocataLites), a high-precision positioning network can be created exactly where and when you need it. This network can complement or replace traditional GPS at a local level and be implemented anywhere.
JPS can be customized and scaled to be any size needed. No additional correction network means base stations, atomic clocks, data links, and differential corrections are not needed. That means less room for error and drastically reduced infrastructure costs.