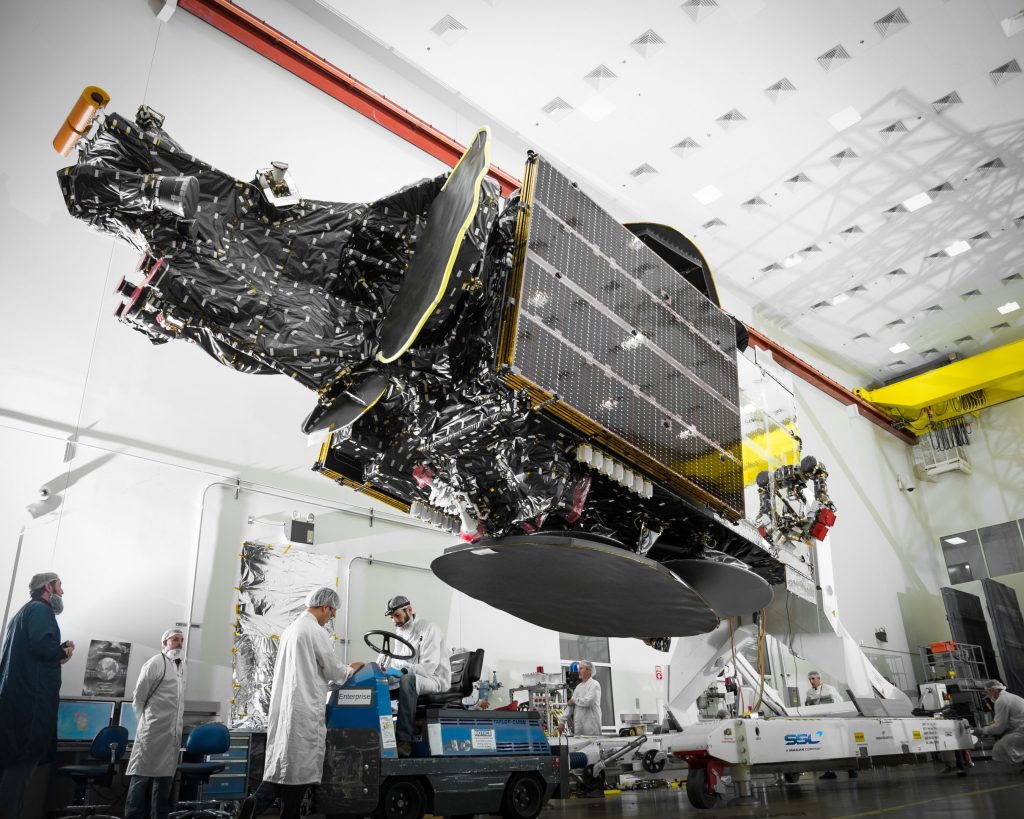 US: SSL, a Maxar Technologies company, has announced that an advanced communications satellite it built for Telesat, a leading global satellite operator, was launched yesterday night and is successfully performing post-launch maneuvers according to plan. The satellite, called Telstar 18 VANTAGE, deployed its solar arrays on schedule following its launch aboard a SpaceX  Falcon 9 launch vehicle from the Cape Canaveral Air Force Station in Florida.
Telstar 18 VANTAGE will begin firing its main thruster later today in order to propel the spacecraft toward its final geostationary (GEO) orbit. The advanced performance and capacity built into Telstar 18 VANTAGE, to serve the growing demand for broadband connectivity, demonstrate SSL's leadership in partnering with its customers to power the new space economy.
"This is our second very advanced high throughput satellite that we provided to Telesat this summer," said Dario Zamarian, group president of SSL. "I would like to thank Telesat for putting its confidence in SSL and for working with us as a team to make this mission a success. The exceptional performance and capacity SSL integrated into Telstar 18 VANTAGE demonstrates how we, together with our long term colleagues at Telesat, are providing next-generation space systems that improve lives here on Earth."
Telstar 18 VANTAGE is one of a new generation of Telesat satellites with capacity optimized to serve bandwidth intensive applications increasingly in demand by users worldwide. SSL incorporated multiple technology innovations, including additive manufacturing, electric propulsion, and a variety of next generation systems to maximize next-generation broadband service capabilities and provide Telesat customers with a competitive edge in meeting growing demand from mobility, enterprise and telecom markets across the Asia Pacific region.
Once in service at 138 degrees East, the satellite will be in an ideal orbital position for connecting Asia to the Americas. Telstar 18 VANTAGE replaces and expands on Telstar 18 and will provide extensive C-band capacity over Asia, powerful Ku-band HTS spotbeams over Indonesia and Malaysia, and five additional Ku-band beams – innovative payloads that will deliver a new level of performance and value for satellite broadband requirements. Telesat partnered with APT Satellite of Hong Kong in the design and deployment of this spacecraft, which APT calls Apstar-5C.
"As the third high throughput satellite in our global fleet, Telstar 18 VANTAGE will provide important competitive advantages for our customers across Asia," said Dan Goldberg, President and CEO, Telesat. "SSL has been a trusted partner for many years and I would like to congratulate the entire team for the delivery of this complex and advanced spacecraft."
With the launch of Telstar 18 VANTAGE there are now 90 satellites built by SSL in GEO orbit. This number represents more commercial GEOs built by SSL than by any other manufacturer.
Also of note, the satellite shares a name with the 2018 World Cup gameplay ball, which was named Telstar 18. This was a tribute to the World Cup ball used in 1970, which was the first World Cup to be broadcast live around the world over satellite.