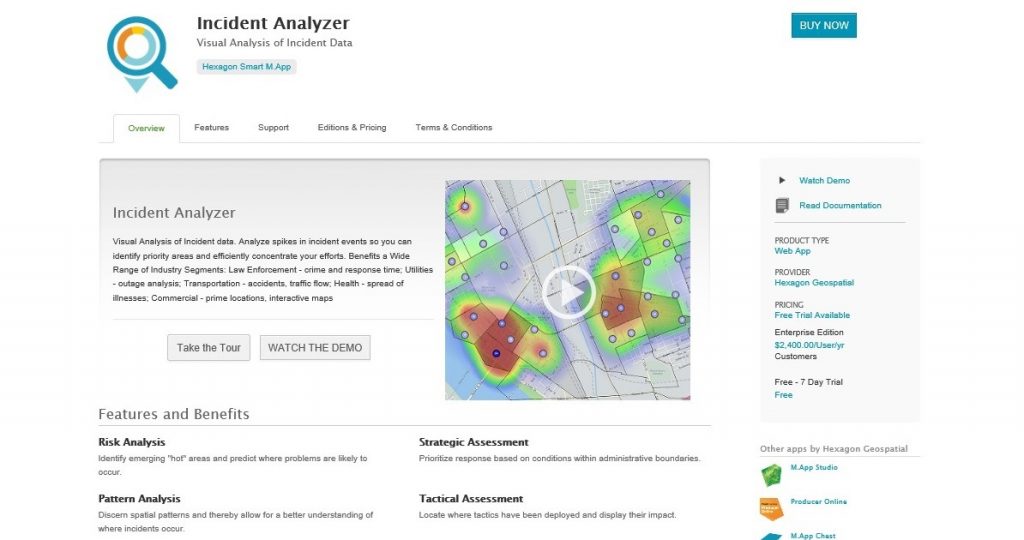 US: Hexagon Geospatial has launched its Incident Analyzer, a Hexagon Smart M.App that facilitates the analysis of a variety of incident events such as crimes, response times, power outage locations, accident locations, traffic flow, disease outbreaks, or even where terrorist organizations destroy cultural heritage sites.
The incident analyser provides an interactive map that quickly displays the geographic concentrations of such events, allowing organizations to understand patterns, target priority areas and predict future incidents so that they can efficiently allocate resources.
"For years, we have had access to incident data. We could map it and analyze it, but it was locked in static maps, without the ability to understand how the elements of time and change affected the data," said Hexagon Geospatial president, Mladen Stojic.
"The Incident Analyzer Smart M.App creates a dynamic information service, breaking the data out of frozen maps. By synthesizing data across time with sophisticated business analytics, it illuminates patterns and provides meaningful insights to guide future decisions."
Organizations need to understand the patterns inherent in their incident data. By providing a cloud-based interactive dashboard interface, it allows the data to be viewed in a variety of different ways. Pin maps, hotspots, repeat incidents, and summary layers give clear insight into the spatial distribution of the incidents.
With Incident Analyzer you can interactively explore data and, in turn, create and share intelligence reports that depict meaningful spatial patterns. You can use these reports to aid with tactical analysis, targeting specific areas, and effectively deploying resources.