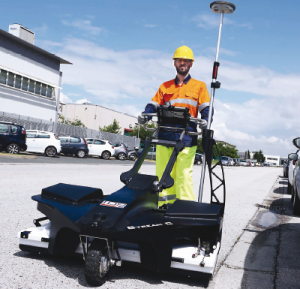 Delhi, India: Hexagon, the leading global provider of information technology solutions, will display its products and solutions at Geospatial Media and Communications' flagship event, Geospatial World Forum 2018.
Hexagon's solutions are used in broad range of industries, such as agriculture, metals and mining, oil and gas, automotive, chemical, power, shipbuilding, urban development and smart cities, safety, defense and aerospace, surveying, medical devices and pharmaceutical, among others.
The company will be displaying its Smart M.App portfolio, a simple to use platform to build lightweight and dynamic applications targeted to solve a specific problem. The solution combines content, business workflows, and geoprocessing into a single application to deliver geospatial analytics as a service.
Attendees will also witness Leica Geosystems' technologies and IDS GeoRadar's (a part of Hexagon) two variants: Stream C, a compact array solution for real-time 3D mapping of underground utilities and features; HYDRA-G, a compact, remote sensing monitoring system designed for early warning and real-time measurements of sub-millimetric displacements in buildings, dams, tunnels, mining infrastructures, etc.
Scheduled to take place from 17-19 January 2018 in Hyderabad, India, the event will be hosting one of the largest exhibition of its kind in South Asia. Spread over 2000+ square metre area, featuring more than 60 top geospatial companies, government agencies and user organizations, the exhibition will be an excellent platform to get acquainted with new and trending geospatial products, solutions, and practices globally.
About Hexagon
Hexagon AB is a Sweden-based company, which operates as a provider of information technologies that drive productivity across geospatial and industrial enterprise applications for a range of industries. The Company's solutions integrate geospatial and industrial sensors, software, three-dimensional (3D) mapping, five-dimensional visualization and analysis, domain knowledge and customer workflows into intelligent information ecosystems that deliver actionable information.
About Geospatial Media and Communications
Geospatial Media & Communications is the world's largest geospatial knowledge platform. It aims to facilitate collaboration, and demonstrate the value and benefits of geospatial technology for organizations, governments and citizens. Geospatial Media produces GeospatialWorld.net, Geospatial World Forum, and Global Geospatial Outlook report.