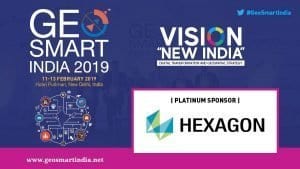 India: Hexagon, a global leader in digital solutions that creates a state where data is connected seamlessly through the convergence of the physical and the digital world is now a Platinum Sponsor for GeoSmart India. The event is scheduled from 11th-13th February'19 at Hotel Pullman, New Delhi.
With a theme of "Vision New India", the 19th Edition of GeoSmart India aims to provide key concepts of geospatial technology for a future of dynamic, robust, clean and secure India by involving every stakeholder at local, state and national levels. There is a potential for the development of the applications to revolutionize productivity and efficiency across the country by integrating geospatial innovations.
"Hexagon India endeavors to play a leading role in providing end-to-end solutions with ground-breaking technologies that make a positive and lasting impact to address our nation's current challenges in the Geospatial domain. Hexagon is a global leader in digital solutions that create Autonomous Connected Ecosystems (ACE), a state where data is connected seamlessly through the convergence of the physical world with the digital, and intelligence is built-in to all processes. Our disruptive technologies move them beyond the data impasse of IoT by leveraging the vast potential of data being generated by connected things – integrating AI, Edge-Cloud Orchestration, Mobility, and Data Visualisation into autonomous connected ecosystems.  Our Core competencies include Reality Capture, Intelligent Positioning, Situational Intelligence and Industrial Design," stated Pramod Kaushik, President, Hexagon India.
"We take pride in the fact our solutions are reaching out and benefiting the day-to-day life of the Indian citizens. Our vision is to be in the forefront to partner with the Indian Central and the State Governments to make advancement in areas of Smart Cities, Natural Resources and Infrastructure."
Anamika Das, Vice President, Outreach and Business Development at Geospatial Media and Communications, quoted, "I am very proud to have Hexagon at GeoSmart India as they are a leading global provider of information technology solutions that drive productivity and quality across geospatial and industrial landscapes. I look forward to a tremendous conference with a great mix of speakers and panelists from Hexagon to create digital transformation through Geospatial Innovation and build "New India" in a smarter way".