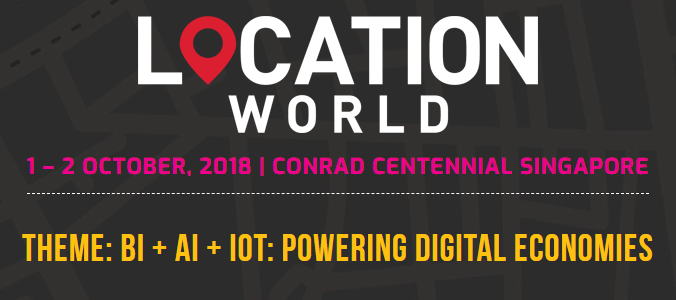 Singapore: Geospatial Media and Communications is pleased to introduce Here Technologies, the Open Location Platform Company, enables people, enterprises and cities to harness the power of location as a silver sponsor at Location World Conference. The conference is scheduled to take place on 1-2 October 2018 at Conrad Centennial Singapore.
Location world is a two-day business conference centered around the theme BI+AI+IoT: Powering Economies i.e. location technology – a business intelligence process that combines with AI, IoT and big data to generate insights from location-based or geographic business data. Businesses that integrate location intelligence into their marketing strategy benefit by gaining accurate information that gives them insights on their consumers, allowing them to take action involving customer bases, distribution channels, networks, as well as to maximize marketing decision making.
Location World, Singapore 2018 aims to connect the dots for AI, IoT and Location Technologies with communities, business enterprises, government, research & academia, etc. through strategic collaborations, innovation promotions, partnerships and management liaison.
"Solving Location Intelligence – Building and maintaining global digital maps of our ever-changing world has always been a daunting task. Even worse, we are now entering an era where not only humans but also autonomous machines rely heavily on highly precise map information to function properly, autonomous cars being but only one example. Wouldn't it be great to have Deep Learning help us to keep maps accurate and up-to-date? As this is a very wide field I will focus in this presentation on a few concrete examples how HERE Technologies applies Deep Learning for creating maps. Furthermore we'll have an in-depth look at the technologies underlying cutting-edge location-based services like geo-coding and multi-modal matrix routing", said Dr Hannes Kruppa, Director R&D,HERE Technologies, Berlin, Germany.
"The team is proud to have the support from Here Technologies as a silver sponsor at Location World conference, Singapore 2018. With the rising need of commitment to user community by making sense of the world through the lens of location, empowering customers to achieve better outcomes – from helping a city manage its infrastructure or an enterprise optimize its assets to delivering drivers to their destination safely with exceptional services and support. Thereby, as we strive to create a unique platform by bringing together the business users of the industry from varied genre, Here Technologies participation will add a greater value to the Location World forum", said Prashant Joshi, Vice President, Outreach and Business Development at Geospatial Media and Communications.