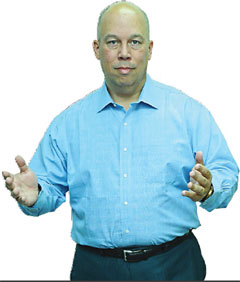 Geneva: At Geospatial World Forum 2014, Michael T Jones, Chief Technology Advocate, Google, enthralled the floor with his fast-paced and engaging presentation on 'The Smart Revolution'.
Jones, who was part of the second plenary titled geo-enabling citizens across the world with innovative technologies, grabbed immediate attention of the audience as he started his presentation with The Beer Hunter, an interactive map which tells you about where all one could get beer at Toronto in Canada at any particular time! Stating that it was one of the innovative ways of geospatial technology empowering citizens, Jones quickly switched to more serious topics such as worldwide sensor web and connectivity. For instance, in Iceland there is a system of putting a chip in fish and as long as the fish is alive, the chip records the salinity, temperature, location et al of wherever that fish is moving.
He also talked about other innovative projects launched by the company such as the contact lens that measures blood sugar levels of a person. One just has to blink and the lens, which is embedded with a chip, records the glucose level. In addition, he talked about the real-time shipping map from Google which uses data from ICOADS (International Comprehensive Ocean-Atmosphere Data Set) to track all the ship movement around the world.
"Maps are just pictures. But maps also must make the picture come alive to communicate with people," he said, adding, "If we process some of these data in these interactive maps we can build up a nervous system of the planet in the next 10 years."
Source: Our correspondent