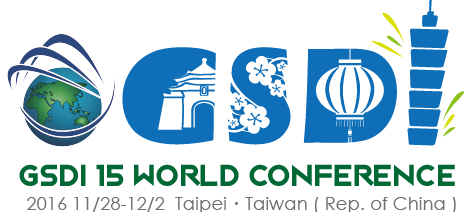 Taiwan: The OGC (Open Geospatial Consortium) Technical and Planning (T&P) Committee Meeting is due later this year. The 15th Global Spatial Data Infrastructure World Conference (GSDI 15) will coincide in Taiwan.
Hosted by GIS Research Center at Feng Chia University (GIS.FCU), the event will take place from 4-8 December 2016 in Taichung. On the other hand, the GSDI 15, hosted by GSDI member Taiwan Association for Disaster Prevention Industry (TADPI), is being held a week prior to the December meeting, i.e. on 29 November – 2 December, in Taipei.
The purpose of OGC Technical and Planning Committee meeting is to network, knowledge share and advance the development of Open Geospatial Standards. To enjoy access to all the standards meetings on offer during the week, participants need to be an OGC member.
However, the Opening & Closing plenaries, Regional Forums, Summits, Domain Working Groups and networking opportunities are open to participation by anyone who is interested in learning about and furthering the development of open geospatial standards (registration fees will apply to non-members).
GSDI 15 provides a venue to learn about OGC standards in action. Many of the presentations, posters, and workshops at GSDI 15 will focus on how to remove barriers for geospatial data sharing, how to improve interoperability of geospatial services, and how to engage and enable the geospatial user community.
The theme of GSDI 15 is "Spatial Enablement in the Smart Homeland." Advanced information and communications technologies, applications for spatial data, and open data policies are key to helping people prepare for extreme events and to foster opportunities for public and private sectors to create innovative products and services for Smart City and Smart Territory implementation.
As host of the OGC T&P Committee Meeting and a principal member of the GSDI 15 Local Organizing Committee, GIS.FCU is excited to have international experts converge in Taiwan. Says Director Dr. Jimmy Chou, "We heartily welcome you to the GSDI 15 and OGC Committee Meeting. Together we can explore new fields and extend our imagination of global future."
GIS.FCU develops and provides solutions for intelligent city planning, incorporating geospatial information technology platform to display parameters of given urban areas. With the intention of integrating geospatial information and the insistence on innovation, GIS.FCU supports the environmental decisions making by utilizing the core knowledge of GIS, GPS, and RS, making efforts in the research of technologies and the development of systems, promoting geospatial teaching and technology research in schools.
The Early Bird registration fee end date is 15 September, so register here today! https://gsdi15.org.tw/registration
For further information about GSDI 15, please visit the conference website at https://gsdi15.org.tw and/or email the Conference Committee at [email protected] or [email protected]