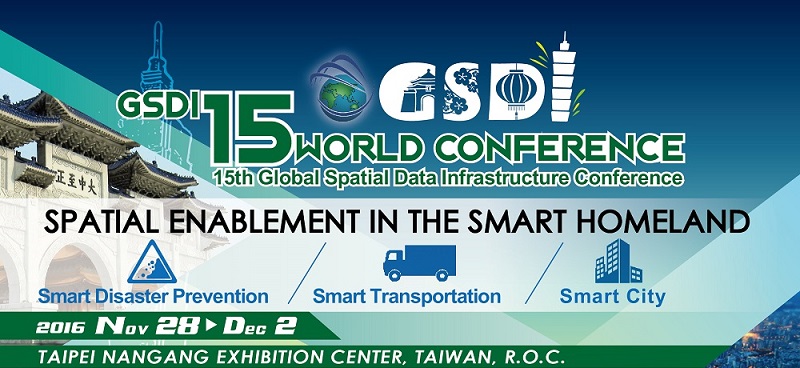 Taiwan: The Conference Organizing Committee of the 15th Global Spatial Data Infrastructure Conference (GSDI 15) has extended the Abstract due date to 1 July. The new due dates for GSDI 15 are: Extended abstract: 1 July 2016; Full (refereed) paper: 15 July 2016; Non-refereed paper: 31 July 2016; Poster submissions: 31 July 2016; Workshop proposals: 1 July 2016; Early bird registration (for reduced attendance fee): 15 September 2016
The theme of GSDI 15, which will take place from 29 November to 2 December 2016, is "Spatial Enablement in the Smart Homeland." Advanced information and communications technologies, applications for spatial data, and open data policies are key to helping people prepare for extreme events and to foster opportunities for public and private sectors to create innovative products and services for Smart City and Smart Territory implementation.
Abstracts may be submitted online in one of the following tracks:
Track 1 = SDI for the Smart Homeland & Disaster Management, Reduction and Mitigation
Track 2 = SDI Governance and Policy Developments & Geo Data for Decision Making
Track 3 = Earth Observation, Sensors, Geo Technology & SDI Innovation
Track 4 = Geo Education and Cartography & Regional and Global SDI Initiatives
Track 5 = Land Information and Management Systems
To submit Abstracts, Papers or Posters, you can create a User account at https://conf.gsdi.org/index.php/conferences/gsdi15/user/account and then submit the material following the 'New Submission' menu option. Don't forget to check the box for 'Author' in the requested Profile information in order to make a submission. For further queries, information is available at https://gsdi15.org.tw.
Source: GSDI