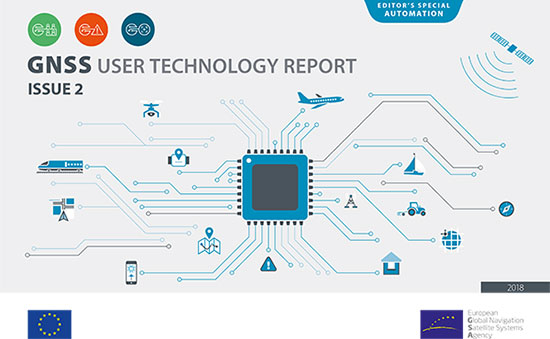 France: The second edition of the European GNSS Agency's (GSA) GNSS User Technology Report has been published and is now available for free download, providing an exhaustive review of the latest GNSS trends and developments.
Since it was first launched in 2016, the GNSS User Technology Report has become the go-to-source for information on the dynamic, global GNSS technology industry.
The GNSS User Technology Report is published every two years and takes an in-depth look at the latest state-of-the-art GNSS receiver technology, along with providing expert analysis on the trends that will shape the global GNSS landscape in the coming years.
Like the inaugural report in 2016, the second issue focuses on three key macro segments: mass market solutions; transport safety- and liability-critical solutions; and high precision, timing and asset management solutions.
The report opens with an overview of the latest developments and trends in GNSS, with a focus on the multi-constellation and multi-frequency that are driving new trends in the sector.
"With the GNSS User Technology Report, our aim is to provide everybody in the GNSS value chain with a comprehensive overview of the current landscape in the industry and to identify new trends so that stakeholders know in which direction the industry is moving," GSA Executive Director Carlo des Dorides said.
"The most important new trend identified in this issue is the rapid adoption of multiple frequencies, including for consumer devices, as evidenced by the market introduction of the first dual-frequency smartphone in May 2018," des Dorides said.